Un trabajo inferior a lo que de ellos esperaba, pero aun asi raya un buen nivel.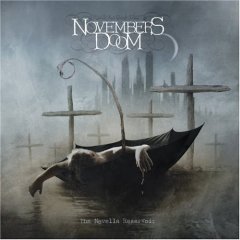 Sinopsis
1. Rain
2. Novella Reservoir, The
3. Drown The Inland Mere
4. Twilight Innocence
5. Voice Of Failure, The
6. They Were Left To Die
7. Dominate The Human Strain
8. Leaving This


Paul Kuhr - Vocals
Vito Marchese - Guitar
Joe Nunez - Drums
Lawrence Roberts - Guitar
Chris Djuricic - Bass

Crítica

Puntuación
del crítico: 7

Me han hecho falta varias escuchas para adentrarme a criticar este trabajo. Lo esperaba con bastante ilusión, y el resultado, para mi gusto, es algo decepcionante. Por ello no quise hacer la reseña tras escucharlos un par de veces. A nivel interpretativo, nada que decir, Novembers Doom son una maquina perfectamente engrasada, ultrapesada, y con una produccion impecable, con las mezclas del celeberrimo Dan Swanö.


Pero echo terriblemente en falta algo hasta ahora inseparable hasta ahora en la musica de estos americanos, los momentos ultra épicos, los pasajes grandiosos, que se te clavaban, ya fuera por melodia o por potencia.
Aqui tenemos algo similar a lo que ofrecieron en "The Pale Haunt departure", pero aun mas extremo. Han ahondado mas en la vertiente death, separandose hasta cierto punto de los postulados doom. Distinguimos una serie de temas muy potentes y rapidos ("Rain", "Drown The Inland Mere", "The Voice Of Failure" y "Dominate The Human Strain", curiosamente las impares del disco) en los que el doble bombo adquiere un primordial protagonismo, y las voces de ultratumba acallan la version mas ligera de la banda. Por otro lado, tenemos las 4 restantes ("The Novella Reservoir","Twilight Innocence","They Were Left To Die ","Leaving This "), que se acercan mas a los ND mas clasicos.


Porque me disgusta este endurecemiento? Porque considero que lo que los hacia especial era la facilidad con la que creaban grandiosos momentos, ya fueran desde la distorsion mas brutal a la cristalinidad mas pura, y eso, lamentablemente, no lo encuentro aqui.
El disco tiene buenos momentos, me gusta especialmente "The Novella Reservoir", que si mantiene el espiritu clásico de la banda, o Twilight Innocence, pero creo que el disco no supera el nivel de trabajos anteriores, por no decir que lo baja.
Aún así , es un disco notable, porque siguen siendo Novembers Doom, solo que con otros matices. Entiendo que esta subida de decibelios entusiasme a mas de uno, pero creo que no camufla un ligero bajón compositivo. Pero como todo depende del entusiasmo con el que la gente acepte el disco, puede que entonces sigan por este camino, o no. Estaré ahi para verlo, por si acaso.

Ficha de Disco enviada por
pitopocho
el 4 de Abril de 2007
video
visitantes