Esto es porno duro, un disco denso y maduro que supuso la cima creadora de Pulp, en un ambiente turbio, oscuro, lascivo y hermoso, de moteles, historias de amor e intentos de redención.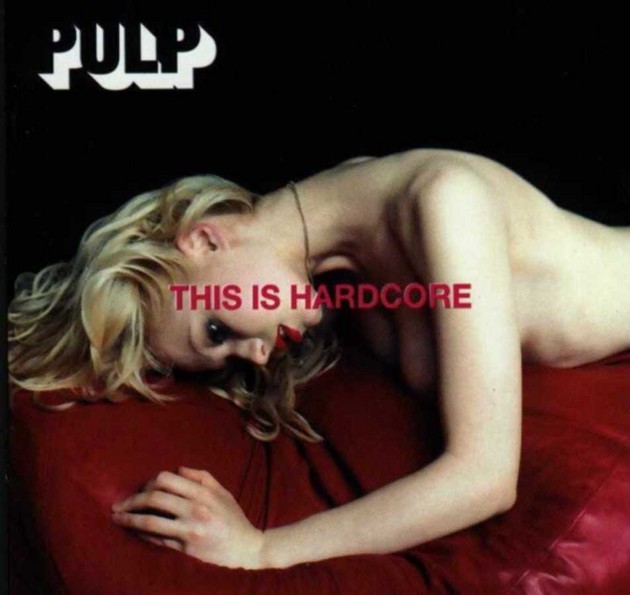 Crítica

Puntuación
del crítico: 10

Después de alcanzar el éxito con un albúm de pop perfecto como Different class, Jarvis Cocker y los suyos decidieron no seguir la senda marcada de estribillos gloriosos y pop festivo (Disco 2000, Common People) y si un camino mucho más introspectivo que ya estaba presente en su disco más exitoso(en canciones como Feeling Called love o I Spy).


La portada, el diseño, los videos, y sobre todo las letras nos llevan a un mundo Hollywoodiense de películas eróticas, playmates asesinadas, padres que pegan a sus hijos, ancianos olvidados con ganas de vivir la vida y sobre todo un sinfín de historias humanas...


El comienzo del Lp, con The Fear, una canción que comienza con poco caudal sonoro pero que se desborda como un río, marca el tono cargado de sentimiento, oscuridad, pecado y redención del disco. Turbulenta como una tonada de Nick Cave.

Dishes, una sencilla balada, resta dramatismo por el momento. "No soy Jesucristo pero tengo las mismas iniciales"...Jarvis señala a su interlocutora que no puede hacer milagros, pero puede ayudarla en las pequeñas cosas cotidianas.

Party Hard es una canción pop rock que toma como modelo la época glam de Bowie. En una fiesta sin fin el protagonista acaba preguntandose sin parar: "Cuando la fiesta acabe¿Vendrás a casa conmigo?". Glamour, maquillaje, guitarras, energía sucia, casi sexual.

"Ayuda a los ancianos, una vez fueron como tú, bebiendo, fumando y esnifando pegamento". Así comienza uno de los puntos álgidos del disco, una canción perversa sobre la soledad de nuestros mayores, Help The aged, con una melodía que empieza apenas susurrada y crece y crece de modo exponencial. "Es hora de que te agencies un amante mayor, te enseñará cosas, aunque parezca un poco anquilosado..."



This is hardcore es puro melodrama. Es una película de Douglas Sirk. Es L.A. Confidential. Es una película porno dirigida por Cocker, con una orquestación misteriosa y malsana, pop oscuro de colegialas perversas y directores porno,es la noche en que "me pareció verte en algún húmedo sueño adolescente". Simplemente perfecta, densa como una tormenta, susurrada de forma sucia, cantada de forma magistral, con violines de hilo musical de un motel de carretera.



"Sin ti mi vida se ha convertido en una peli para televisión: Mal diálogo, malas actuaciones, sin interés. Demasiado larga, sin historia, sin sexo". Tv Movie: Una pequeña balada cantada de forma teatral, con una letra patética al estilo Brel, con el protagonista suplicando: "Por favor di que vas a quedarte, di que vas a quedarte". Magnífica, abrumadora sensación de abandono.



A little Soul. Una canción pop, para una historia de malos tratos. Un padre pregunta a su hijo por qué trata mal a su mujer, y le dice " no es la forma en que deberías hacerlo, puedo enseñarte a hacerlo bien, solía practicar cada noche con mi mujer. Ahora se ha ido"."Todo el mundo me dice que te pareces a mi, pero por favor, no te conviertas en mi""Parezco un gran hombre pero tengo un alma pequeña".


Una carta de advertencia, una disculpa, un lamento.

I'm a Man parece una reflexión acerca de los roles
que asuminos, de las personas que se supone que somos. Cantada de forma juguetona, Jarvis no deja de decir que "es un hombre" ya que "aprendió a beber, a fumar, a contar chistes verdes". Pero no parece muy convencido de que eso baste. Una canción arrebatadora que trata sobre la máscara que nos ponemos al crecer cuando en realidad seguimos siendo chicos asustados "malgastando el tiempo".



Seductive Barry es la clásica canción de Pulp con un soporte abrumadoramente agobiante, oscuro, sinuoso, un bajo taladrante, y una voz susurrada, recitada, más que cantada...Esos Jadeos de Jarvis sobre el deseo, que suenan desesperados y húmedos, entre volutas de humo, locales de striptease, y toda una atmósfera sordida..."Si esto es un sueño voy a dormir el resto de mi vida...". Para mi gusto demasiado atmósferica, etérea, pesada y algo pretenciosa, el peor corte del Lp.



Sylvia es probablemente mi canción preferida del disco. Jarvis se adentra en la psicología femenina como un observador que quiere brindarle la mano a una chica que no lo está pasando bien("No puedo ayudarte pero se que las cosas mejorarán"), pero que en realidad desea algo más de ella que ayudarla("A él no le importan tus problemas, solo quiere enseñarte a sus amigos. Lo sé porque soy igual que él"). La canción comienza como una delicada balada, pero se embala hacia un tono más épico.



Glory Days es un intento de autoplagio de su éxito "Common People", tan evidente que en directo solían empalmarlas. Un pelín más grandilocuente, trata de días de gloria que en realidad no son tales("Los días que malgastamos en el café de la estación").

The day after the revolution es una canción wagneriana en su concepción monumental, que comienza poco a poco y se convierte en un crescendo continuo de sonido en un estilo muy particular de reinterpretar "A day in the life". "La revolución empieza y acaba en tí mismo", es la máxima que marca la canción que despide el album a lo grande, en un torbellino sonoro que confirma la madurez de Pulp y los situa en un nivel de dominio de climas, letras, atmósferas, melodías que dificilmente iban a poder igualar nunca.



En algunas ediciones aparece una "cara b" gloriosa, Like a Friend, Que empieza suave y acaba gritada más que cantada, de forma espectacular...Se incluyó en la B.S.O. de "Grandes esperanzas" y no desmerece en nada al resto.

Ficha de Disco enviada por
Mycroft
el 19 de Agosto de 2006
visitantes