Noveno trabajo de los reyes del doom metal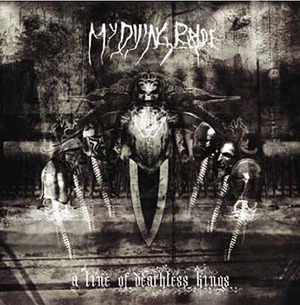 Sinopsis
Tracklisting

1. To Remain Tombless
2. L'Amour Detruit
3. I Cannot Be Loved
4. And I Walk With Them
5. Thy Raven Wings
6. Love's Intolerable Pain
7. One of Beauty's Daughters
8. Deeper Down
9. The Blood, The Wine, The Roses

Aaron Stainthorpe - vocals
Ade Jackson - bass
Andrew Craighan - guitar
Hamish Glencross - guitar
John Bennett - drums
Sarah Stanton - keyboards

Crítica


Puntuación
del crítico: 8

Nuevo trabajo de los autenticos reyes del doom metal, por discografía, perseverancia, actitud, y calidad musical.
Su nuevo "A line of Deathless Kings" me ha parecido un trabajo algo mas relajado y pausado que su anterior "Songs of Darkness, Words of Light", sobre todo en el aspecto vocal, donde Aaron Stainthorpe tira mas de su faceta melancólica, que de la voz desgarrada cercana al black metal que ha usado anteriorermente.


También lo veo algo mas monótono, en cuanto a estructuras y cambios de ritmos, pero todo ello lo compensan las hermosísimas melodias, sobre todo de guitarras. Tambien reseñar que es el primer trabajo de John Bennett a las baquetas, tras confirmarse la baja de Shaun Taylor-Steels por sus problemas en la rodillas. Particularmente me quedo con el estilo del dañado batería.


Pasando al disco en sí, la inicial "To remain tombless" me transporta directamente a los tiempos de "Like gods of the sun", lo cual me lleva a darme cuenta lo que todavía sigo echando en falta el violin de Martin Powell, y eso que justamente se cumplen ahora diez años de su marcha.. Lo mejor del tema, el estribillo.


"L´amour detruit" es la perla del disco. Autentico doom melancólico, lento, atmosférico, con una tenue presencia de teclados, que acompañan la triste voz de Aaron durante los casi diez minutos de duración de la misma. En su parte central, cambia de ritmo para volver a unirse de nuevo a la melodía inicial, y terminar aún más épica de lo que empezó. El pasaje final con guitarras limpias, se me hace corto. Me hubiera encantado algo similar al comienzo de "The Dreadful Hours".


Bajo el inquietante título de "I cannot be loved", encontramos otro pedazo de monumento doom, y , llegados a este punto, noto que lo que me gusta mas del album, es el tratamiento de las melodias vocales, algo diferentes a lo que me tenian acostumbrados. De nuevo, una parte central nos deriva la canción a tiempos más antiguos, ralentizando más la canción si cabe.


"And I walk with them" se muestra más dinamica que todo lo anterior. Sin embargo, hasta que no se frena, en su mediación, no me parece realmente atractiva. No me parece la mejor.
Algo parecido me pasa con "Thy Raven Wings", que pese a su emotivo comienzo, no logra despuntar como una gran canción hasta tirando casi al final de la misma. Aún así está ganando con las escuchas.
Si que me parece una gran canción "Loves intolerable pain". Ésta la veo más del estilo de su anterior trabajo, mas rítmica y viva, sobre todo cuando las guitarras limpias de Hamish Glencross y Andrew Craighan te enlazan con una parte bastante mas agresiva que la tónica general del disco. Tambien se agradece.


"One of Beauty´s Daughter" tiene en su minuto 1:25 una parte que se que he escuchado antes en alguna otra canción, y llevo dias intentado recordar de donde leches es... A parte de eso, me encanta. El riff central no puede ser mas sencillo, pero el efecto que causa es genial. De lo que mas me gusta del album.


El nuevo batería tiene su momento de lucimiento con el doble bombo en el single "Deeper Down". Si bien al principio me pareció de las mas flojas, ahora me tiene enganchado, en gran parte por las melodias que usa la voz, hasta que aparece por fin la voz gutural ,la gran olvidada de este "A line..."


Un tema pesado (en el buen sentido) e intenso.
"The Blood, The Wine, The Roses". Toda una declaración de principios para cerrar el disco. Un tema clásico, con unos riffs que no resultan desconocidos, pero que creo que no aporta gran cosa a su discografía, salvo ese final death metal que no deja de ser algo anecdótico.
En definitiva, un disco que tal vez baja un poco el nivel de sus anteriores obras, pero que sigue siendo bastante alto.

Ficha de Disco enviada por
pitopocho
el 17 de Octubre de 2006

visitantes