¿Recuerdas esos juegos a los que solíamos jugar?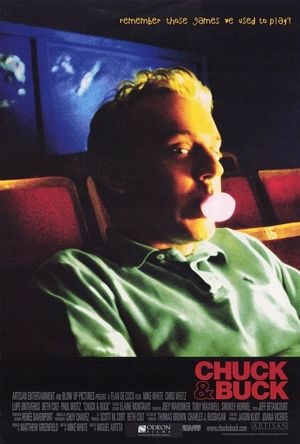 Chuck and Buck, suck and fuck...
Chuck y Buck
Título original
Chuck and Buck
Nacionalidad
Estados Unidos de América
Año
2000
Género
Comedia · Drama
Formato
Color
Duración
96
Director
Miguel Arteta
Guión
Mike White
Fotografía
Chuy Chávez
Música
Smokey Hormel, Tony Maxwell, Joey Waronker
Producción
Artisan Entertainment / Blow Up Pictures / Flan de Coco Films / Toga Productions
Reparto
Mike White, Chris Weitz, Lupe Ontiveros, Beth Colt, Paul Weitz, Maya Rudolph, Mary Wigmore, Paul Sand, Gino Buccola, Annette Murphy, Glory Simon, Doug Keiffer, Jonathan Brown, Ruthie Bram
Sinopsis
Chuck (Chris Weitz) y Buck (Mike White) son dos antiguos amigos de la infancia que se reencuentran. Buck pretende reiniciar la relación que mantenían, pero para Chuck la vida ya ha cambiado: es un ocupado hombre de negocios y está a punto de casarse, por lo que la testarudez de Buck le acaba resultando molesta. La insistencia de Buck no se debe solamente a una idealización de la infancia. Su vida interior se paró a los 11 años, cuando era amigo inseparable de Chuck. Por si fuera poco, lleva toda la vida enamorado de él en secreto.

Crítica

Puntuación
del crítico: 7

Chuck and Buck es la primer incursion al cine del duo Arteta/White, quienes Nos presentan una historia acerca de la redencion, acerca de seguir adelante y superar esos obstaculos del pasado.

Buck es un niño en el cuerpo de un adulto, apegado a su madre y a su pasado. Cuando la madre de este muere, llama a su amigo de la infancia Chuck, con quien tenia una relacion que sobrepasaba la frontera de la amistad.
Esta historia la convierten en imagenes incomodas, usando todos los recursos (iluminacion, fotografia..etc) para hacer una pelicula que sea lo mas real posible y como consecuencia que transmita a carne viva los sentimientos del personaje de White.

White interpreta a un personaje inseguro, que luchara por revivir la relacion que tenia con Chuck. Chris Weitz interpreta a Chuck quien con una nueva vida hara todo lo posible para que la obsesion de Buck no influya en esta, creando un constante rechazo y un constante apego a esa lejana realidad de parte de los dos personajes.



Creo que esta historia se prestaba para un dramon, pero White se las arregla para insertarle toques de comedia, burlandose de los actos y comportamientos de las personas ante tales situaciones.

Una pelicula que se hace muy indiferente, pero que al final logra un levantamiento considerable. Superior a su posterior obra, the Good Girl.

Woody Constanza
video
visitantes