Dios quiere recuperar los Diez Mandamientos originales.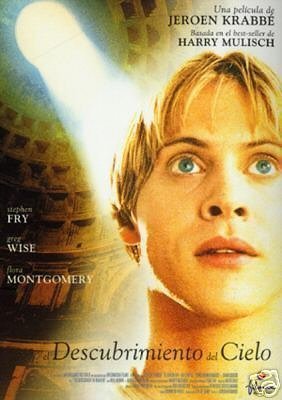 El descubrimiento del cielo
Título original
The discovery of heaven
Nacionalidad
Holanda
Año
2001
Género
Ciencia-Ficcion · Drama
Formato
Color
Duración
128
Director
Jeroen Krabbé
Guión
Edwin de Vries; basado en la novela de Harry Mulisch
Fotografía
Theo Bierkens
Música
Henny Vrienten
Distribuidora
filmax
Reparto
Stephen Fry (Onno), Greg Wise (Max), Flora Montgomery (Ada), Neil Newbon (Quinten), Emma Fielding (Helga), Diana Quick (Sophia), Viv Weatherall (Ángel), Gillian Barge (Madre de Onno), Nettie Blanken (Coba), Victoria Carling (Margareth Quist), John Franklyn Robbins (Padre de Onno), Jeroen Krabbé (Gabriel)
Sinopsis
Dios quiere recuperar los Diez Mandamientos originales. Sin embargo, no se le permite a ningún ángel viajar a la tierra para conseguir-los. Los ángeles tienen que "crear" a un ser humano que sea lo suficientemente inteligente como para encontrar las Tablas de la Ley, alguien que esté dis-puesto a sacrificar su vida con el fin de restituir las Tablas al Cielo. Los ángeles idean un plan ingenioso, a la vez que despiadado, para lograr su objetivo. El plan toma forma cuando, en la tierra, se en-cuentran dos hombres, aparentemente por casualidad. Uno de ellos es Onno Quist (Stephen Fry), un lingüista excéntrico, hijo de un antiguo Primer Ministro. El otro es Max Delius (Greg Wise), hijo de un padre nazi y de una madre judía. Los dos hombres se hacen amigos. Sólo una persona puede inmiscuirse en la intimidad de su amistad: Ada Brons (Flora Montgomery), una joven violoncelista. Ada se queda embarazada. No sabe si el padre del hijo que espera es Max u Onno. Tras su nacimiento, Quinten da muestras rápida-mente de ser un niño especial y de gran talento. ¿Es él el elegido? ¿Será capaz de completar la tarea de los ángeles?

Crítica


Puntuación
del crítico: 5

Esta peli es mas un drama que ciencia ficcion, eso de antemano. Lo mejor es el trio protagonista, por lo demas es todo muy normalito, supongo para ser una produccion holandesa es mas que decente. Creo que sus pretensiones son mucho mayores de lo que llega a conseguir, quizas no me alla gustado como el director a tratado el tema y aburre en muchas partes del metraje.

Al Capone
video
visitantes