Frank Drebbin ha vuelto, Asumelo.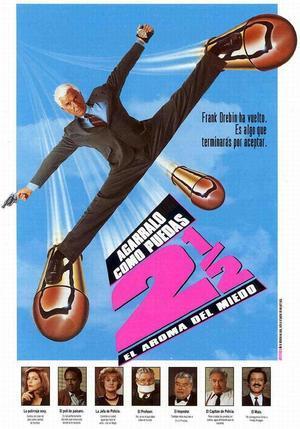 Agárralo como puedas 2 y 1/2
Título original
The Naked Gun 2 1/2, The Smell Of Fear
Nacionalidad
Estados Unidos de América
Año
1991
Género
Comedia
Formato
Color
Duración
83
Director
David Zucker
Guión
Jim Abrahams, David Zucker
Fotografía
Robert Stevens
Música
Ira Newborn
Producción
Paramount
Reparto
Leslie Nielsen, Priscila Presley, George Kennedy, O.J. Simpson, Robert Goulet, Richard Griffiths, Jacqueline Brookes, Anthony James, Lloyd Bochner
Sinopsis
El inefable y patoso teniente de policía Frank Drebbin ha vuelto para salvar a la ciudad, esta vez para enfrentarse a los villanos de la industria energética. Un importante científico, el doctor Mainheimer, está a punto de publicar un informe sobre el suministro energético del futuro que pinta mal para los dueños de las industrias del petróleo, el carbón y la nuclear. Así que las industrias secuestran a Mainheimer y lo reemplazan por un doble más favorable a sus intereses. Jane, la secretaria del doctor, es el viejo amor de Drebbin y su llama pasional volverá a reavivarse.

Crítica

Puntuación
del crítico: 6

Divertida secuela que ya no llega a sorprender tanto como la primera y la frescura se pierde, pero aún asi resulta disfrutable y tiene sus puntos.
Lo mejor el principio y lo que le hace pasar a la pobre reina.

Chema
visitantes