Un Asesino sin escrúpulos...Una víctima accidental.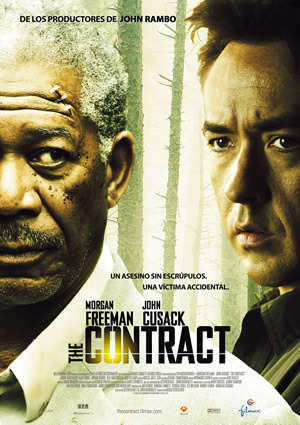 The Contract
Título original
The Contract
Nacionalidad
Estados Unidos de América
Año
2006
Género
Suspense
Formato
Color
Duración
96
Director
Bruce Beresford
Guión
Stephen Katz, John Darrouzet
Fotografía
Dante Spinotti
Música
Normand Corbeil
Producción
Contract Productions
Distribuidora
Filmax
Reparto
Morgan Freeman, John Cusack, Jamie Anderson, Alice Krige, Megan Dodds, Corey Johnson, Jonathan Hyde, Bill Smitrovich, Anthony Warren, Ned Bellamy, Thomas Lockyer...
Sinopsis
Un viudo y su hijo adolescente tratan de reconstruir el vínculo que los une cuando deben rescatar de un automóvil estrellado a un asesino por encargo y al oficial del FBI que lo custodia. Padre, hijo y policía deciden llevar al asesino ante la ley, pero otros agentes y un grupo de criminales tratarán de impedirlo.

Crítica

Puntuación
del crítico: 6

Estamos ante una película bastante decepcionante, donde los únicos que animan a verla son Morgan Freeman y John Cusack, cuyos papeles los podrían haber realizado cualquier actor de serie B.

La película es muy predecible a lo largo de todo el metraje, y en ocasiones aburrida; si bien, el comienzo promete algo más, que después no llega a pasar.

Pero a pesar de todo esto, no es del todo mala, ya que algo entretiene, solamente será una película más de videoclub (formato en el que salió directamente en EEUU, sin previo paso por cine).

Saludos: SeÑoR X ;)
video
visitantes