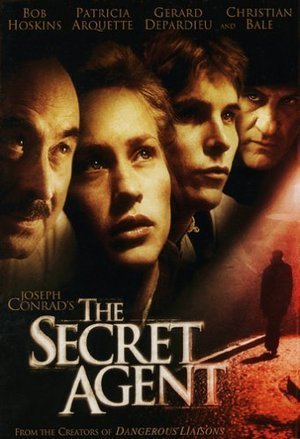 El Agente Secreto
Título original
The Secret Agent
Nacionalidad
Reino Unido
Año
1996
Género
Drama
Formato
Color
Duración
95
Director
Christopher Hampton
Guión
Joseph Conrad, Christopher Hampton
Fotografía
Denis Lenoir
Música
Philip Glass
Producción
Twentieth Century Fox Film Corporation, Capitol Films, World Film Music Limited
Distribuidora
20th Century Fox
Reparto
Bob Hoskins (Verloc), Patricia Arquette (Winnie), Gérard Depardieu (Ossipon), Jim Broadbent (Inspector Heat), Robin Williams (El Profesor), Christian Bale (Stevie), Roger Hammond (Sr. Michaelis), Eddie Izzard (Vladimir)
Sinopsis
Finales del siglo XIX, Londres es un caldo de exiliados políticos (refugiados, anarquistas, conspiradores). Verloc es un 'doble' espía para el gobierno ruso y para la policía Londinense, su trabajo consiste en provocar y crear eventos que desencadenen caos político. Cuando el nuevo embajador ruso le exige pruebas de su lealtad, Verloc comenzará una serie de trágicos eventos que afectarán a su esposa Winnie y a su cuñado Stevie.

Crítica

Puntuación
del crítico: 6

No he tenido la oportunidad de leer The Secret Agent de Joseph Conrad ni ver alguna de las otras adaptaciones cinematográficas, pero El Agente Secreto de Christopher Hampton me pareció muy rara.
Christopher Campton regulis regulis en dirección y guión, muchos eventos que llevan a otros pero que se sienten sin alma, una combinación de drama/thriller político 'con mensaje' que nunca embona como debería, personajes que se van construyendo pero terminan a medias, aunque la ambientación Londinense caótica y deprimente es muy buena.


Lo único malo de la actuación de Arquette es el acento, pero realiza una actuación que mejora mientras avanza la película, Bob Hoskins aunque buen actor no me terminó de convencer como Verloc, Christian Bale sobresale en su corta pero significativa participación y digo que sobresale porque su personaje de 'retrasado' no resulta tan exagerado ni cargante en sus manos, Depardieu y Broadbent están de pasada cobrando chequesito y Robin Williams con un personaje teatral y over the top.


Para resumir, pasa muchísimo pero nada cuaja, todo se siente forzado, inconexo y sin terminar pero resulta ser una experiencia rarísima y entretenida, el final es difícil de olvidar y no aburre en nigún momento, además es divertido burlarse de los forzadísimos acentos de Eddie Izzard y Patricia Arquette.

Frog
video

visitantes