No todos afrontan el dolor de la misma manera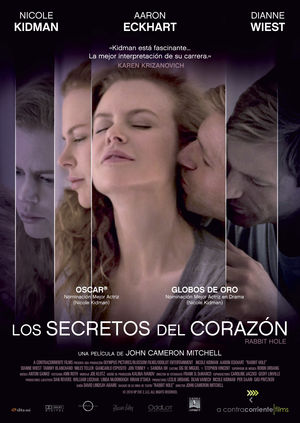 Sinopsis
La historia sigue a un matrimonio que está tratando de superar la muerte de su hijo de cuatro años, fallecido en un accidente automovilístico. Adaptación a la gran pantalla de la novela 'Abaire', de David Lindsay, ganadora del Premio Pulitzer en categoría de drama. (FILMAFFINITY)

Crítica

Puntuación
del crítico: 7

John Cameron Mitchell sorprendió hace ya una década con la gandiosa "Hedwig and the Angry Inch" en la que demostro talento delante y detrás de las cámaras. Siguió con la interesante aunque pretenciosa "Shortbus", donde se confirmaba como un director original y a contracorriente.

En "Rabbit Hole" continúa moviéndose en el terrero independiente pero es una película mucho más sosegada y convencional que las otras. Narra el dolor ante la pérdida de un niño pequeño y la difícil fase de afrontarlo por parte de sus padres, sus familiares e incluso el propio autor del accidente.



Una peli con mucha sensibilidad que no sensiblería, con sus escenas potentes bien rematadas por el director y los actores. Nicole Kidman está magistral, Aaron Eckhart hace bien su papel pero la película es de Nicole. Desgarradora interpretación (la escena en el coche) que nos devuelve la gran actriz que es tras unos cuantos años de carrera olvidables.



Me ha gustado mucho la música de Anton Sanko, compositor a seguir al que descubrí en la tercera temporada de la serie "Big Love" donde su banda sonora era impresionante.

Davis
video
visitantes