¿Es posible volver de entre los muertos?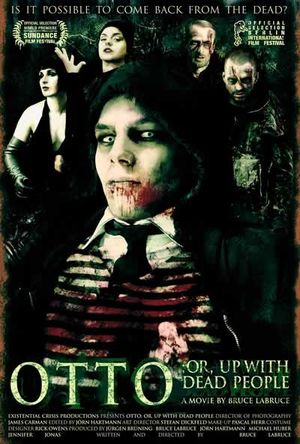 Sinopsis
Otto es un zombie neogótico sensible con problemas de identidad. Aunque en apariencia es un zombie más, lo cierto es que no es así. Pero todo cambia cuando casualmente descubre un cartel que anuncia audiciones para una película de zombies. Medea Yarn, la revolucionaria directora de la película, está convencida de que Otto, como zombie confuso, es la encarnación perfecta de los efectos de capitalismo avanzado sobre individuos. Medea comienza a hacer un documental sobre Otto, simultáneamente a la filmación de una película sobre una revuelta de zombies gays contra la sociedad de consumo. Ese rodaje permitirá que Otto comience a recordar acontecimientos de su vida antes de convertirse en zombie, incluyendo un dulce novio.

Crítica

Puntuación
del crítico: 6

Una extraña, hipnótica y sugerente peli de "Zombies" y algo de gore y sexo. Encontré la cinta y la vi sin saber nada de su argumento, solo que era de Zombies (que realmente no es así), y que fue cotizada en diversos festivales de cine independiente llegandose a convertir en una película de culto para el sector. Cuando la empiezas a ver no puedes evitar decir "what the fuck" por su evidente bajo presupuesto, y en un principio, incoherente y lioso argumento que a medida que transcurre el film ira cobrando sentido.



Empezamos viendo deambular por las calles a Otto en un mundo en el que los humanos no son las victimas de los Zombies, si no los Zombies son las víctimas de los humanos. Otto es un humano que se niega a comer carne humana, por lo que come flores, conejos o carne desechada que se encuentra por la calle. Aturdido y con dudas, encuentra en la calle un anuncio de trabajo en la que una directora de cine necesita a un actor para su película sobre una revolución de zombies homosexuales que se alzan contra el sistema y el capitalismo, algo muy friki, lo sé. Su directora es Medea, uno de los personajes más importantes y mejores del film, con unas frases que son un puntazo y un sentido del humor genial, cuya amante vive en un mundo mudo en blanco y negro, y da mucho juego visual en el film.



Tras toda esta apabullante imaginación, donde los más puristas, y sobre todo homofobos, se tiraran de los pelos, en donde hay alguna que otra escena de sexo explicito homosexual, aunque si has visto películas como 'A Serbian Film' esto será pan comido, se encuentra una hermosa, trágica, deprimente y nostálgica historia de amor, sobre un pobre chico esquizofrénico que cree ser un zombie e intenta encontrar un lugar en el mundo.



'Otto; or, Up with Dead People' es una de esas cintas experimentales que se salen de lo normal, de bajo presupuesto, donde la historia es más primordial que la casquería, y es que hay alguna escena pornográfica y de casquería que el director se la podría haber ahorrado y que creo que le resta puntos al film, pero al igual que puede remover el estomago también consigue remover los sentimientos y es lo que más valoro del film, que llega a transmitir emociones varias y que no deja indiferente.



Claramente una cinta no recomendada para todos los públicos, solo para paladares que disfruten del cine experimental y extraño. Yo por lo menos la he disfrutado bastante.

Nota: 6'5

o.O VoLdEmOrT O.o

Ficha de Película enviada por
Voldemort
el 20 de Julio de 2012
video

visitantes