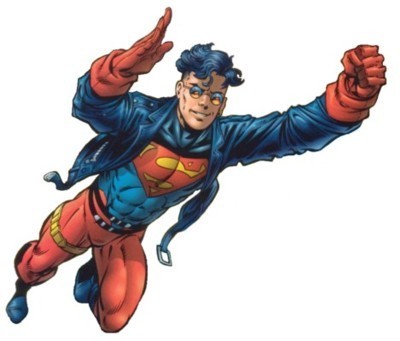 Rasgos principales de su personalidad, historia y bibliografía principal
Originalmente, Superboy era simplemente Superman cuando era un chaval, ya que en el Universo DC anterior a CRISIS, Superman tenía poderes desde que llegó a la tierra siendo un bebé.

Opinión del crítico


Puntuación
del crítico: 8

Debido a la continuidad posterior a Crisis, se suponía que Superman no tuvo poderes hasta la adolescencia y apenas tuvo aventuras como adolescente. Todo esto cambiaría posteriormente, pero provocó todo tipo de saltos en la "continuidad" del personaje que nos ocupa, llevando a crear un nuevo Superboy a raiz de la saga de los multiples Superman después de su muerte, que es en realidad un clon de Superman mezclado con humano.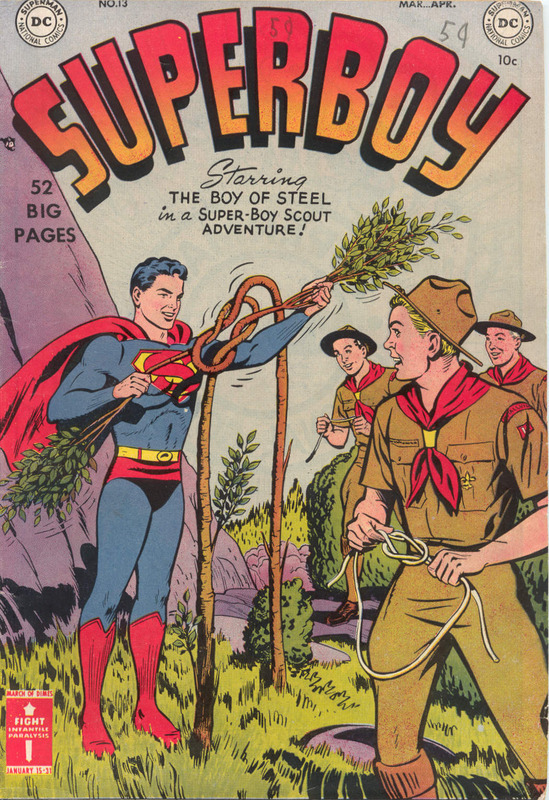 La primera aparición de Superboy fue en el cómic More Fun Comics # 101, de 1944, posteriormente saltaría a Adventure Comics donde sería el personaje principal durante muchos años, y a la vez tuvo su propia serie, SUPERBOY, que se lanzó en Marzo del 49.
Las aventuras de la Golden Age de Superboy son todo un ejemplo clásico de los cómics de la época, historias sencillas profundizando en sus poderes y siempre con algún tipo de enseñanza moral en ellas. En toda esta etapa se desarrolló un universo propio en Smallville, con Lana Lang, Pete Ross y los Kent como personajes secundarios principales. Es curioso ver en perspectiva cómo al haber perdido todo este background el Superman de hoy en dia, muchos lectores actuales no saben de donde vienen muchas situaciones de la serie de V Smallville, que en parte homenajea a la Golden Age de Superboy (especialmente al principio).



La Legion de Superhéroes es otro de estos conceptos dificiles de encajar en el Universo DC sin un Superboy. La Legion apareció junto a Superboy en las páginas de Adventure Comics (primera aparición en Adventure Comics # 247 en abril de 1958), y pasó a protagonizar ésta serie en solitario a partir de 1963. En la serie de Superboy pasó tres cuartos de lo mismo a partir de 1974 año en que la serie pasó a llamarse Superboy and the Legion of Super-heroes en el número 197. En la misma serie Superboy tendría historias cortas, pero cada vez con menos frecuencia debido a la popularidad de la legion.


El personaje tuvo otra serie a principios de los 80, The New Adventures of Superboy, que duró 54 números.
A raiz de Crisis se suponía que el personaje había desaparecido, aunque debido a la importancia que tenía dentro de las aventuras de la Legion de Superheroes, tuvieron que inventarse un "universo de bolsillo" para la aventuras de superboy pre-crisis (demostrando las chapuzas que han hecho con la continuidad del universo dc).


Cuando apareció el nuevo Superboy, rápidamente se convirtió en un personaje popular, en parte debido a su cercanía al público moderno al ser una actualización, y también por las décadas de historia que llevaba el nombre de Superboy. Kon-El tuvo su propia serie desde 1994, 100 números memorables y a fecha de hoy gran parte inéditos en España, que merecen la atención de cualquier aficionado, con una soltura y una gracia propias proporcionadas por Karl Kesel y Tom Grummet. Gran serie. Posteriormente se uniría a los Jovenes Titanes y destrozarían un poco al personaje, volviendolo más "oscuro" (bah) y finalmente muriendo en Infinite Crisis (bah).


Gracias a dios lo resucitaron hace poco en La Legion de 3 Mundos, volviendolo a poner en el sitio que lo corresponde y con nuevas aventuras en la continuación de la serie Adventure Comics, una serie muy recomendable que retoma los origenes del personaje, y donde por supuesto ya se ha encontrado con la Legion de Superhéroes.

Nacho. Algunos datos tomados de wikipedia
Ficha de Personaje enviada por
Nacho
el 24 de Abril de 2010
visitantes