La política de confiscaciones.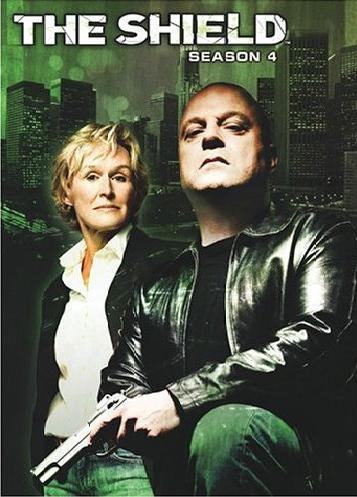 The Shield: al margen de la ley (T4)
Título original
The Shield
Nacionalidad
Estados Unidos de América
Año
2005
Género
Accion · Drama · Genero_Negro
Formato
Color
Duración
60
Director
Scott Brazil, Stephen Kay
Guión
Shawn Ryan, Kurt Sutter
Fotografía
Ronn Schmidt
Música
Vivian Romero
Producción
Emitida por la cadena F/X
Reparto
Michael Chiklis, Glenn Close, Catherine Dent, Walton Goggins, Michael Jace, Kenneth Johnson, Jay Karnes, Benito Martinez, CCH Pounder, Cathy Cahlin Ryan, David Rees Snell, Michael Peña, Anthony Anderson
Sinopsis
Teleserie de policías centrada en el detective Vic Mackey, líder de una unidad especial de policía del distrito de Farrington de Los Ángeles, muy eficaz a la hora de luchar contra el crimen pero que trabaja según sus propias normas empleando métodos muy particulares. Estas normas no excluyen procedimientos tan cuestionables como la extorsión, la tortura o el chantaje, si se consideran necesarios.

Crítica


Puntuación
del crítico: 9

El equipo de asalto se ha desintegrado, Vic se ha hecho "legal" y en el distrito los narcotraficantes y las bandas dominan las calles.

Bajo este panorama entra en escena una nueva capitana de policía, la magnífica Glenn Close haciendo un papelón, que quiere emplear una política de seguridad dura contra los maleantes. Anthony Anderson interpreta al villano de la temporada, el cabronazo líder de la banda "Los 19", tiene escenas muy buenas como cuando se la juega a los polis de antivicio o cuando Glenn Close le presiona en la sala de interrogatorios.


La única "estrella invitada" que no me cuadra es Michael Peña, cuyo papel podrá haber hecho cualquier otro actor desconocido, apenas destaca.

De los de siempre, el que sí destaca y esta vez mucho más que Michael Chiklis es Walton Goggins. Su personaje de Shane Vendrell acapara toda la atención con sus trapicheos corruptos y su sentido del humor. Está genial, mereció al menos una nominación al Emmy.
Otro personaje que evoluciona es el del concejal David Aceveda. La "comidita" que le obligaron a hacer en la anterior temporada le ha convertido en un hombre violento y también en un pervertido sexual. No dudará en usar el poder de su cargo para salirse con la suya en todo momento.

Muy buena temporada.

Davis

visitantes