Rules change, the game remains the same.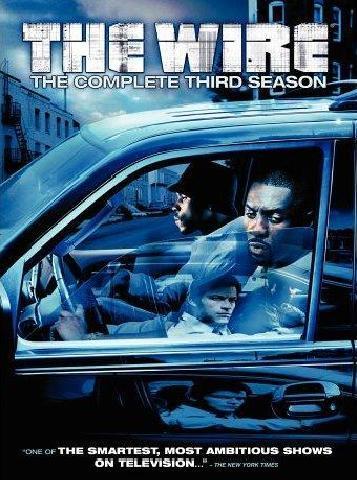 The Wire (T3)
Título original
The Wire
Nacionalidad
Estados Unidos de América
Año
2005
Género
Drama · Genero_Negro
Formato
Color
Duración
60
Director
Edward Bianchi, Ernest R. Dickerson
Guión
David Simon, Edward Burns
Fotografía
Uta Briesewitz
Música
Varios
Producción
Emitida por la cadena HBO
Reparto
Dominic West, John Doman, Idris Elba, Frankie Faison, Larry Gilliard Jr., Wood Harris, Deirdre Lovejoy, Wendell Pierce, Lance Reddick, Andre Royo, Sonja Sohn, Aidan Gillen, Clarke Peters, Robert Wisdom, Seth Gilliam, Domenick Lombardozzi, Jim True-Frost, Paul Ben-Victor, Amy Ryan, Bill Raymond, Pablo Schreiber, Jamie Hector, Michael K. Williams, Brandy Burre, J.D. Williams
Sinopsis
Centrada en el tráfico de droga, The Wire: Bajo escucha ofrece un retrato crudo y realista del enfrentamiento en la calle entre la ley y los capos del narcotráfico, pero también de las rivalidades que afectan a cada uno de estos bandos. Así, policías de a pie, equipo de la brigada antinarcóticos, federales del FBI, concejales, y jueces rivalizan entre sí, al tiempo que se oponen a los grandes señores de la droga, a su vez ocultos detrás de una madeja de traficantes y camellos de poco monta.

Crítica

Puntuación
del crítico: 10

La guerra contra la droga se ha vuelto más sofisticada. Los traficantes se han vuelto más disciplinados y cuidadosos mientras que las fuerzas del orden se ven impotentes, sin poder hacer nada para detenerlos.

Esta temporada habla del contraste entre los viejos tiempos y los de ahora, de la evolución de esa eterna lucha. Para ello aparecen tres personajes nuevos, uno en cada bando (policía, narcotráfico y política) que se unen a esa gran familia de personajes interconectados que es The Wire.

SPOILERS..................

El nuevo poli (estupendo Robert Wisdom) es un comandante a punto de jubilarse que está quemado por la violencia y los problemas que el narcotráfico ocasiona en su distrito. Por ello, a espaldas de los jefazos lleva a cabo una estrategia que consiste en trasladar a todos los camellos de las esquinas habituales y reunirlos en una zona libre donde puedan trapichear sin la amenaza de la policía. La luego llamada "Hamsterdam" se convierte así en guetto de drogas, el paraíso de los yonkis, supuestamente al margen de la sociedad (hasta que se descubre el pastel claro). Magnífico el dilema que se le presenta al alcalde y demás altos cargos ya que el experimento de "Hamsterdam" además de ser un escándalo resultó un descenso notable de la delicencia en el distrito oeste.



El personaje del ex-presidiario traficante también sirve para reflexionar sobre el paso del tiempo y cómo las personas cambian (sale de la cárcel y opta por el camino fácil del mundillo de la droga pero se da cuenta de que ya no puede hacerlo).
Aparte de todo esto la temporada también habla de la conexión entre las agencias inmobiliarias y los señores de la droga, que utilizan para blanquear su dinero con negocios legitimos.

Mcnulty y su tropa siguen investigando a Stringer mediante la escucha, aunque son finalmente el propio String y su socio Barksdale quienes se ponen la soga al cuello (impresionante la escena del abrazo de judas entre los dos).
El gran Omar hace un papel soberbio (la conversación que tiene con Bunk es la leche) siendo además el verdugo de Stringer en una ejecución que no olvidaré jamás (me dio mucha pena ya que era un personaje fabuloso, pero tenía que acabar así).

Siento que esta gloriosa temporada ha cerrado el circulo que empezó en la primera pero al mismo tiempo abre otro para la siguiente sesión (Marlo se convierte el el capo heredero de la droga y la trama política con el nuevo personaje del concejal tampoco tiene desperdicio.

Es una obra maestra sin paliativos. Con pocas series he disfrutado como con ésta.

Davis
Ficha de Serie de TV enviada por
DAVIS
el 1 de Octubre de 2008

visitantes