For some it's the beginning. For others, the end.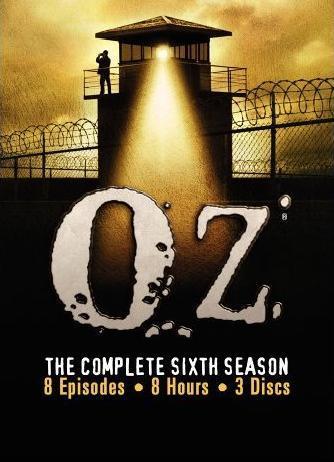 Sinopsis
En el estado de Nueva York se encuentra la Penitenciaría Oswald, a la que casi todo el mundo conoce como Oz. No es una cárcel cualquiera, sino una prisión de máxima seguridad en la que existe una unidad experimental, la Ciudad Esmeralda, con la que se pretende conseguir la rehabilitación de los presos. Limpia, pulcra, moderna y hasta hermosa, la Ciudad Esmeralda no deja de ser, sin embargo, una prisión y, como todas, peligrosa. A pesar de las modernas instalaciones y del énfasis en la recompensa de la rehabilitación, la prioridad allí sigue siendo la supervivencia... y el miedo es el compañero constante.

Crítica


Puntuación
del crítico: 9

Gran final de la saga carcelaria. Fiel a su ideario y coherente desde el punto de vista argumental y temático.

SPOILERS.

Después de seis años hemos visto evolucionar a los personajes. Tobías Beecher por ejemplo, entró en Oz siendo un corderito asustado que tuvo que comerse mucha mierda para sobrevivir, nadie apostaba que duraría ni una semana en prisión pero así fue... pagando un precio muy alto por el camino.

Derramamiento de sangre, ambición, traiciones y crueldad humana es el pan de cada día en esta cárcel. Cerrando la serie de forma memorable el creador, Tom Fontana, no ha dudado en mandar a la morgue a personajes tan emblemáticos como Kareem Said, Augustus Hill, Vern Schillinger o el mismísimo director de Oz, Leo Glynn. Muertes impactántes y épicas como la del recluso Christopher Keller, que se grabará en la memoria de todo el que la vea.



Mucha gente lo ignora pero ésta serie supuso un hito en la televisión al cruzar la línea de lo que estaba permitido mostrar en la pequeña pantalla. Un realismo cuasi documental, una violencia y un lenguaje explícito que luego derivó en "Los soprano" y demás grandes series que estaban por llegar. Nunca se han mostrado mejor los entresijos y las arterias de una gran prisión, sacando al descubierto toda la mugre, ya sea de los reclusos o de los oficiales correccionales, y al mismo tiempo estudiando el factor humano que es lo importante.



Unas conclusiones finales brillantes y una tristeza enorme el tener que abandonar esas cuatro paredes y esos carácteres al límite que tan buenos ratos me han hecho pasar.

Davis
Ficha de Serie de TV enviada por
DAVIS
el 6 de Enero de 2009

visitantes