This life is short.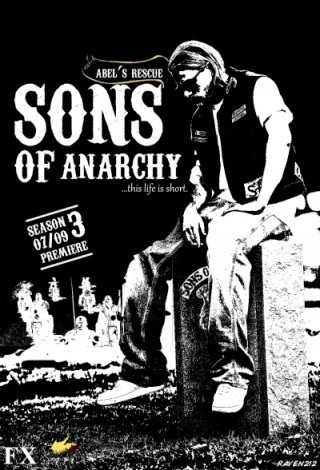 Sinopsis
Los Hijos de la Anarquía son un grupo de moteros que, utilizando métodos poco legales, trata de proteger su pueblo (Charming) de los traficantes de droga. Y, de paso, mantener en pie su negocio ilegal de venta de armas. (sinopsis sacada de laguiatv.com).

Crítica


Puntuación
del crítico: 8

Un año espectacular para "Sons of Anarchy". Me encanta ver como la serie no decae ni siquiera un poquito sino todo lo contrario, evoluciona y se vuelve más interesante a cada paso que da.

Porque las tramas pendientes que venía arrastrando se resuelven en esta temporada: la búsqueda de Abel, la huida de Gemma, el 'problema irlandés', los lios con la agente Stahl...
cada episodio ofrece al espectador su dosis de cine negro, con decisiones valientes y ariesgadas, gente que muere por doquier (incluso personajes que no te esperas debido a su protagonismo).

Resaltar la participación de un estupendo Hal Holbrook, el asesinato a sangre fría de Salazar (donde vemos cómo ha cambiado Jax desde que le conocimos, que toda la mierda que le pasa le está afectando), el ajuste de cuentas a los traidores colegas de Irlanda y por supuesto el momento cumbre de la brutal season finale: la muerte de Jimmy O' a manos de Chibs y de la agente Walker siendo reventada por Opie. Momento épico en el que despachan a dos de los personajes más odiosos de la serie.



Así "Sons of Anarchy" avanza sin perder de vista sus esencias originales, cierra de forma genial los cabos sueltos y deja abiertos varios frentes para la próxima temporada que creo que van a dar mucho juego.

La posibilidad de ver a los chicos en la cárcel, ver como se desenvuelven desde dentro a los no pocos problemas que se les avecinan (las represalias de la mafia rusa, la presión del alcalde Hale) además de las últimas revelaciones sobre John Teller y su posible asesinato a manos de Clay y Emma... sin duda los guionistas saben lo que hacen y todavía nos esperan grandes cosas de SAMCRO.

Davis

visitantes