"En un mundo gobernado por los muertos, por fin nos vemos obligados a vivir"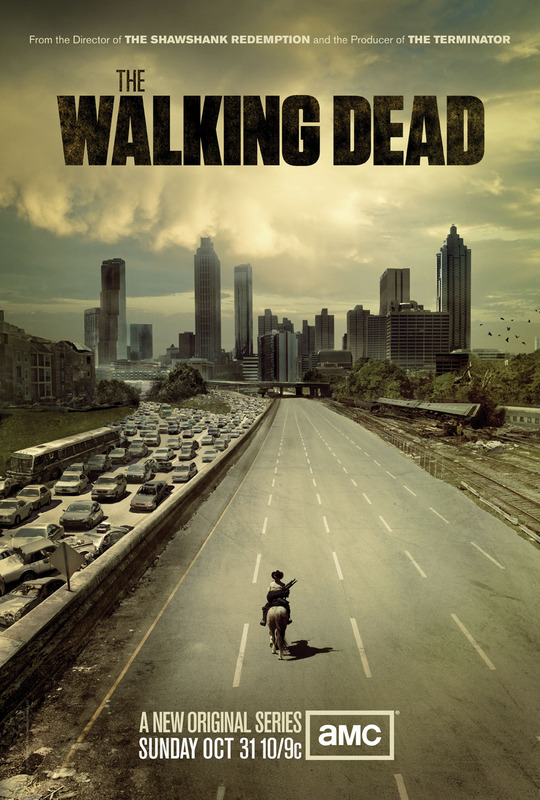 The Walking Dead (T1)
Título original
The Walking Dead
Nacionalidad
Estados Unidos de América
Año
2010
Género
Ciencia-Ficcion · Drama · Terror
Formato
Color
Duración
60
Director
Frank Darabont, Ernest Dickerson
Guión
Frank Darabont, Robert Kirkman (Cómic: Robert Kirkman, Tony Moore)
Fotografía
David Tattersall
Música
Bear McCreary
Producción
AMC
Reparto
Andrew Lincoln, Jon Bernthal, Jeffrey DeMunn, IronE Singleton, Sarah Wayne Callies, Laurie Holden, Chandler Riggs, Steven Yeun, Michael Rooker, Emma Bell, Adrian Kali Turner, Linds Edwards, Keith Allen Hayes, Jim Colemanare, Noah Enmmerich
Sinopsis
Basada en el cómic homónimo, narra la historia de un grupo de supervivientes durante un apocalipsis zombie. Este grupo gira en torno a Rick Grimes, un policía que estuvo en estado comatoso durante la irrupción de la plaga. Aunque el leit motiv sea este apocalipsis zombie, la serie se centra más en las relaciones entre los personajes, su evolución y comportamiento en las situaciones críticas.

Crítica


Puntuación
del crítico: 9

Nuevo triunfo de la AMC, grandes noticias para los amantes de series de calidad. Después de la lamentable cancelación de "Rubicon" aquí tenemos un nuevo programa que se advierte prometedor y duradero.

Esta historia de supervivencia en un apocalipsis zombie resulta ser lo mejor que le ha pasado al género en muchos años. Si bien hablar de género zombi aquí sería un error pues la serie se centra en el aspecto humano y en el insoportable drama de los supervivientes.
Argumentalmente, un cruce entre "Amanecer de los muertos" y "28 dias después" que luego se desliga para tomar su propio camino. No he leido el comic de Kirkman pero si le daré un consejo a los fans del mismo que no hacen más que quejarse porque no es una adaptación fiel y demás tonterías que se leen. Una serie, como una película nunca será lo mismo que el material que le precede, para eso ya existe dicho material asique reláje y disfruta con lo que hay... o no lo hagas es tu problema.



El episodio piloto es una JOYA, realizado por el gran Frank Darabont, un inicio perfecto que deja claras las líneas que seguirá el show. Esta temporada cuenta con sólo seis episodios pero tienen un nivelazo, siempre pasan cosas sorprendentes. El peor es el último que tiene algun momento bajo.

Los zombies están hechos de lujo, genial maquillaje y efectos. No se cortan un pelo en sacar sangre y casquería, es una serie directa y llena de escenas brillantes, con tensión y ritmo.

Los actores, salvo excepciones como Sarah Wayne Callies (pesima) hacen un buen trabajo. El mejor de todos, el prota, un estupendo Andrew Lincoln que lleva la voz cantante.

Una de las series más importantes del año, una gran temporada y otro logro para AMC.

Davis
Ficha de Serie de TV enviada por
DAVIS
el 9 de Diciembre de 2010
video

visitantes