Who killed Rosie Larsen?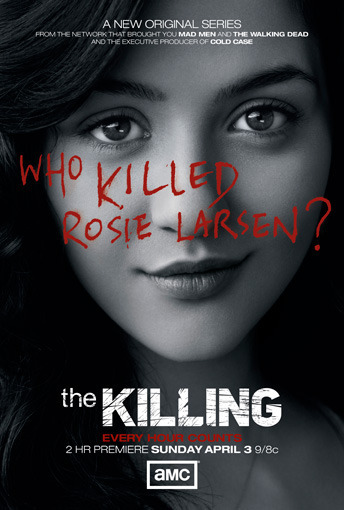 The Killing (T1)
Título original
The Killing
Nacionalidad
Estados Unidos de América
Año
2011
Género
Drama · Genero_Negro · Suspense
Formato
Color
Duración
60
Director
Brad Anderson, Patty Jenkins
Guión
Veena Cabreros Sud (Remake: Søren Sveistrup)
Fotografía
Peter Wunstorf
Música
Frans Bak
Producción
Emitida por la cadena AMC
Reparto
Mireille Enos, Joel Kinnaman, Michelle Forbes, Bill Campbell, Brent Sexton, Liam James, Annie Corley, Jamie Anne Allman, Brandon Jay McLaren, Eric Ladin, Kristin Lehman, Chad Willett, Richard Harmon, Katie Findlay, Raj Lal, Gharrett Patrick Paon, Seth Isaac Johnson, Evan Bird, Keith Callum Rennie, Brendan Sexton III
Sinopsis
Thriller basado en la obra danesa 'Forbrydelsen'. En la serie veremos cómo se desarrolla la investigación del asesinato de una joven desde el punto de vista de todos los personajes implicados, desde sus familiares a los agentes de policía encargados del caso, pasando, por supuesto, por los sospechosos. (FILMAFFINITY)

Crítica

Puntuación
del crítico: 7

Remake de la danesa 'Forbrydelsen' que narra la investigación del asesinato de una adolescente usando cada episodio como un día en el seguimiento del caso.

Comenzó la serie con un doble episodio muy potente. Un escenario como Seattle, gris y siempre lluvioso, creando la adecuada atmósfera, un ritmo sostenido de buen suspense, personajes atractivos que poco a poco van mostrando sus aristas.

Lo genial llega en esas explosiones de emoción que tiene la serie sobretodo al principio. Escenas como el descubrimiento del cadáver o la manera de afrontar la muerte de la hija por parte de los familiares, teniendo que explicarselo a sus dos hermanos pequeños, son momentos que ponen los pelos de punta y la lagrimilla en el ojo.



La trama política aunque entretenida es la que menos me interesa si bien está estrechamente relacionada con el asesinato. La investigación policial mola pero más por la personalidad tan diferente de los dos sabuesos que por las pistas falsas que llevan a continuos callejones sin salida.

Muy buenas actuaciones de Mireille Enos y Joel Kinnaman. A la primera ya deberíamos conocerla ya que estuvo fantástica en la tercera temporada de "Big Love" (donde ya mereció la atención de los Emmys) y el segundo es un actor sueco bastante carismático. No obstante los actores que más pueden lucirse son Michelle Forbes y Brent Sexton como los padres de Rosie, con escenas como las antes comentadas donde están los dos fabulosos.



En lo que acaba fallando este vigoroso thriller es en el capítulo final. Todos esperábamos una resolución y lo que obtenemos es un maldito 'cliffhanger' más propio de una serie comercial al uso que al show de calidad que parecía ser "The killing".
Te quedas con cara de tonto como diciendo... ¿tanto para eso?. No me gustan las trampas ni los guionistas caprichosos que hacen lo que les da la gana para alargar la historia. La trama de Rosie debió concluir aquí y dejar la segunda temporada para un nuevo caso. Pero no.

Ya veremos como reaccionan los espectadores porque está más que claro que este final ha cabreado a mucha gente.
Ya puede ponerse las pilas el canal AMC porque entre cancelar la magnífica "Rubicon", retrasar un año la quinta temporada de "Mad Men" y ahora ésto... no sé que pensar.

Pero repito la serie no es mala, me gustan los mimbres con los que está hecha y merece la pena verla. Lástima del final.

Davis
Ficha de Serie de TV enviada por
DAVIS
el 21 de Junio de 2011
video
visitantes