Don't let the name fool you.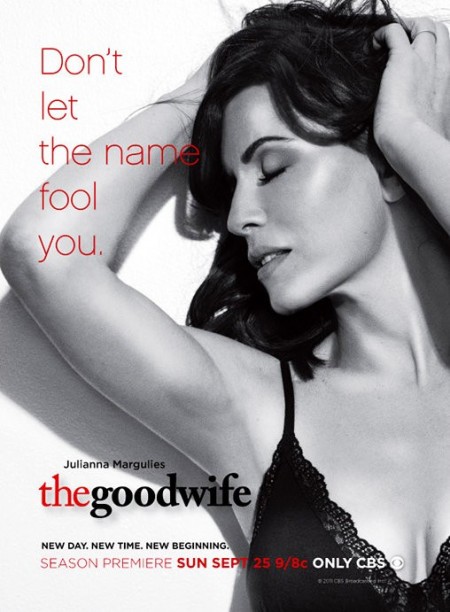 The Good Wife (T3)
Título original
The Good Wife
Nacionalidad
Estados Unidos de América
Año
2011
Género
Drama
Formato
Color
Duración
45
Director
Charles McDougall
Guión
Michelle King, Robert King
Fotografía
Fred Murphy
Música
Danny Lux, David Buckley
Producción
Emitido por la cadena CBS; CBS Television Studios / Scott Free Productions
Reparto
Julianna Margulies, Chris Noth, Christine Baranski, Josh Charles, Matt Czuchry, Archie Panjabi, Alan Cumming, Makenzie Vega, DTeflon, Gillian Jacobs, Martha Plimpton, Michael J. Fox, Scott Porter
Sinopsis
Peter (North) es un popular político que acaba en la cárcel por malversación de fondos y escándalo sexual. A partir de entonces, la vida de Alicia Florrick (Julianna Margulies), su esposa durante 13 años, se desmorona. Deberá rehacer su vida, tras sufrir la humillación de comparecer en público a su lado. Para ello, reanuda su trabajo de abogada en un prestigioso bufete, sin descuidar por ello la vida familiar. De hecho, procurará por todos los medios que sus hijos adolescentes se mantengan al margen del escándalo. La serie se inspira en un caso real: el del Gobernador de Nueva York Eliot Spitzer, que perdió su cargo por un escándalo sexual con una prostituta de lujo. (FILMAFFINITY)

Crítica


Puntuación
del crítico: 8

Es una buena temporada en términos generales aunque queda cierto regusto de que se trata de una temporada de transición, con la entrada al final de Cary Agos de nuevo al bufete o la campaña para gobernador del Estado para Peter Florrick, dirigida por el gran Eli Gold, ases en la manga que han ido desplegando de cara a desarrollar en la siguiente temporada.



Me gustó más la primera tanda de episodios que la segunda, sobretodo la trama que involucra sobornos a jueces por parte de Will. Actuaciones ejemplares de todo el reparto (Josh Charles está inmenso), solidez y coherencia argumental, casos auto conclusivos bien elaborados.
Se nota que para el episodio final "The Dream Team" echaron toda la carne en el asador. Es magistral, reúne a lo mejorcito de la serie (incluyendo los secundarios estrella Michael J. Fox y Martha Plimpton) y bucean en la vida de la misteriosa Kalinda (el tema de su marido es otra perla que dejan en suspenso para más adelante).



En resumen, la serie sigue en forma y es de lo mejor que emiten las Network norteamericanas actualmente.

Davis
Ficha de Serie de TV enviada por
DAVIS
el 4 de Mayo de 2012

visitantes