Try to survive here!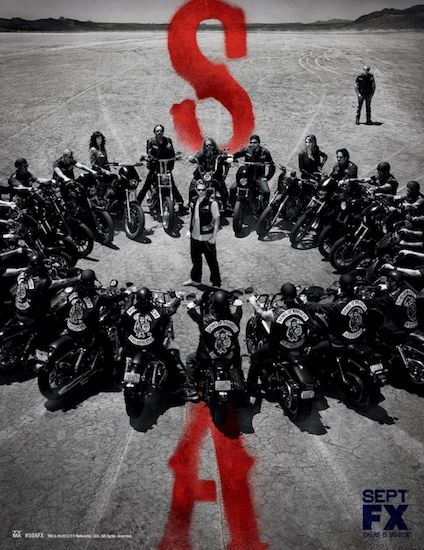 Hijos de la anarquía (T5)
Título original
Sons of Anarchy
Nacionalidad
Estados Unidos de América
Año
2012
Género
Drama · Genero_Negro
Formato
Color
Duración
60
Director
Kurt Sutter, Guy Ferland
Guión
Kurt Sutter
Fotografía
Paul Maibaum
Música
Bob Thiele Jr.
Producción
FX Network / Fox 21
Reparto
Charlie Hunnam, Ron Perlman, Katey Sagal, Mitch Pileggi, Magie Siff, Mark Boone Junior, Johnny Lewis, Theo Rossi, Taylor Sheridan, Kelly Galindo, Cameron Goodman, Tony Swift, Ryan Hurst, Kim Coates, Dayton Callie, Dendrie Taylor, Nicholas Guest, Sprague Grayden, Emilio Rivera, Keir O'Donnell, Taryn Manning, Tory Kittles, Kurt Sutter, William Lucking, Ally Walker, Winter Ave Zoli, Dendrie Taylor, Winter Ave Zoli, Danny Trejo, Donal Logue, Jimmy Smits, Harold Perrineau, Walton Goggins
Sinopsis
Los Hijos de la Anarquía son un grupo de moteros que, utilizando métodos poco legales, trata de proteger su pueblo (Charming) de los traficantes de droga. Y, de paso, mantener en pie su negocio ilegal de venta de armas. (sinopsis sacada de laguiatv.com).

Crítica


Puntuación
del crítico: 8

De la quinta temporada en líneas generales se podría decir exactamente lo mismo que con la anterior. Está de puta madre, sobretodo los primeros episodios pero a la hora de cerrarla la cagan estrepitosamente. Lo peor es que la cagan pero a conciencia, con conocimiento de causa, ya que al final se quedan sin ideas nuevas y tienen que volver a la casilla de salida para seguir pariendo temporadas.



Kurt Sutter es un liante de cuidado, la de giros y trampas que mete en la trama para seguir alargando la vida de sus personajes. El episodio final no es que sea un desastre total, la forma de cargarse a Pope y salvar a Tig es facilona pero el plan de Jax de hacer que su asesinato caiga sobre Clay (con traición de Gemma y Juicie incluida) es muy efectivo. Lo que le faltó es mostrar de una vez la muerte de Clay Morrow. A mi me encanta el personaje pero aguantarle vivo tanto tiempo con toda la mierda que ha hecho pues como que no cuela.



Este año la serie ha mantenido su nivel habitual, puro entretenimiento, con buenos episodios, algunos irregulares y otros muy buenos. Sin duda la muerte de Opie es el evento que ha dado oxígeno a la serie (la escena en sí es brutal, aparte de inesperada), ya que permite a Jax evolucionar al lado oscuro (nunca le hemos visto tan frío y sanguinario), está comprobado que llevar el mazo de SAMCRO corrompe.



Ha sido interesante ver a Jax convertirse casi en un reflejo de lo que fue Clay, mostrando su falta de escrúpulos para librarse de sus enemigos y su inteligencia para salirse del 'cartel shit'. La otra trama pendiente de la temporada 4 era la del caso RICO, la cual se han quitado de encima mediante Tara y sus visitas a prisión para persuadir a Otto. Claro que no iba ser todo un camino de rosas y la cosa acaba en asesinato brutal cometido por Otto contra una enfermera, Tara detenida por complicidad y un Marshall sediento de venganza con la cara de Donal Logue que se guardan en la manga para la temporada 6.



La evolución de Tara como personaje pintaba bien este año, ver como se ha ido convirtiendo en la abeja reina, sustituyendo a Gemma, tomando mayor partido en los asuntos del club... pero al final la cosa perdió fuerza cuando hizo el trato con Wendy para ser tutora de sus hijos y decidir irse de Charming sin hablar antes con Jax.


Gemma por su parte ha sido el personaje más ridículo de todos, lo que los guionistas han hecho con ella es digno de culebrón venezolano.

Entre las nuevas caras de este año destacar a Jimmy Smits, tan bien como acostumbra, a Harold Perrineu como el gran villano Damon Pope y sobretodo al cameo de Walton Goggins en la piel de Venus Van Damme, un puntazo absolutamente genial que recuerda que a esta serie, con sus varias limitaciones, le falta mayor sentido del humor.

Davis
Ficha de Serie de TV enviada por
DAVIS
el 20 de Diciembre de 2012
video

visitantes