26 directores. 26 maneras de morir.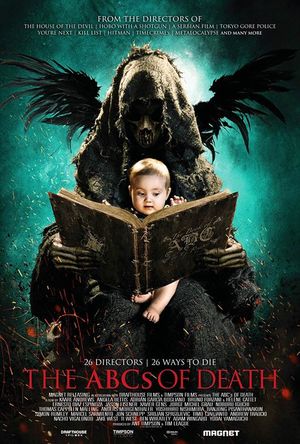 The ABCs of Death
Título original
The ABCs of Death
Nacionalidad
Estados Unidos de América
Año
2012
Género
Terror · Corto · Biografico
Formato
Color
Duración
129
Director
Adam Wingard, Ti West, Jake West, Andrew Traucki, Simon Rumley, Nacho Vigalondo, ..
Guión
Simon Rumley, Ti West, Kaare Andrews, Simon Barret, Srdjan Spasojevic, Dimitrije Vojn
Fotografía
Harris Charalambous, Karim Hussain, Nicolás Ibieta, Nemanja Jovanov, Antoine Marteau
Música
Varios
Producción
Drafthouse Films / Magnet Releasing / Timpson Films
Reparto
Dallas Malloy, Kyra Zagorsky, Peter Pedrero, Fraser Corbett, Lucy Clements, Joshua Diolosa
Sinopsis
26 letras. 26 directores. 26 maneras de morir. La idea no puede ser más simple: a cada cineasta se la adjudica una letra, y se le da total libertad para crear un cortometraje en el que la muerte juegue un papel destacado. De esta manera, se construye una antología de cadáveres exquisitos que supone, sin ninguna duda, uno de los proyectos más ambiciosos que el género ha conocido en toda su historia cinematográfica (no en vano, la producción ha atravesado quince países diferentes). El objetivo: ofrecer una panorámica ora divertida, ora siniestra, que sirva para definir todo aquello que le ha ocurrido al terror en los últimos diez años.

Crítica


Puntuación
del crítico: 5

26 cortometrajes de 26 directores.

A de "Apocalipsis" de Nacho Vigalondo. Nota: 7.
B de "aBominable hombre de las nieves" de Adrian Garcia Bogliano. Nota: 1.
C de "Ciclo" de Ernesto Diaz Espinoza. Nota: 1.
D de "Dog Fight" de Marcel Sarmiento. Nota: 4.
E de "Exterminar" de Angela Bettis. Nota: 1.
F de "Fart- Pedo" de Noboru Iguchi. Nota: 1.
G de "Gravedad" de Andrew Traucki. Nota: 1
H de "hydro - electric difusion" de Thomas Cappelen Malling. Nota: 6.
I de " Ingrown- encarnado" de Jorge Michel Grau. Nota: 1.
J de " Jidai -Geki" de Yudai Yamagushi. Nota: 5.
K de "Klutz-Torpe" de Andrers Morganthaler. Nota: 6.
L de "Libido" de Timo Tjahjanto. Nota: 7.
M de "Miscarriage-Aborto" de Ti West. Nota: 1.
N de "NUpscias" de Banjong Pisanthanakun. Nota: 9.
O de "Orgasmo" de Bruno Forzani y Helene Cattet. Nota: 1.
P de "Presion" de Simon Rumley. Nota: 1.
Q de "Quac" de Adam Wingard. Nota: 9.
R de "Removido" de Srdjan Spasojevic. Nota: 1.
S de "Speed" de Jake West. Nota: 5.
T de "Toilet" de Lee Hardcastle. Nota: 10.
U de "Unearthed" de Ben Wheatley. Nota: 8.
V de "vagitus" de Kaare Andrews. Nota: 8.
W de "WTF" de Schnepp. Nota: 1.
X de "XXL" de Xavier Gens. Nota: 8.
Y de "Young Buck" de Jason Eisener. Nota: 10.
Z de "Zetsu Metsu" de Yoshihiro Nishimura. Nota: 1

Hay cortos buenos pero la mayoria estan por debajo de la media. Si tuviera que eligir uno, creo que seria la Y.

video

visitantes