¿Te atreves a entrar en tu mente?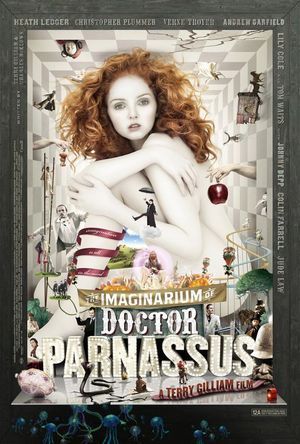 El Imaginario del Doctor Parnassus
Título original
The Imaginarium of Doctor Parnassus
Nacionalidad
Canadá · Francia · Reino Unido
Año
2009
Género
Aventuras · Fantastico
Formato
Color
Duración
122
Director
Terry Gilliam
Guión
Terry Gilliam, Charles McKeown
Fotografía
Nicola Pecorini
Música
Jeff Danna, Mychael Danna
Producción
Parnassus Productions
Distribuidora
Sony Pictures
Reparto
Heath Ledger (Tony), Christopher Plummer (Dr. Parnassus), Johnny Depp (Tony), Colin Farrell (Tony), Jude Law (Tony), Lily Cole (Valentina), Tom Waits (Mr. Nick), Verne Troyer (Percy), Andrew Garfield (Anton)
Sinopsis
El imaginario del Doctor Parnassus es una moraleja del género fantástico que transcurre en la época actual. Cuenta la historia del Dr. Parnassus y su extraordinario 'Imaginario', un show itinerante donde el público tiene la irresistible oportunidad de elegir entre la luz y la alegría, o entre la oscuridad y la tristeza.



El Doctor Parnassus posee el extraordinario don de guiar la imaginación de los demás, pero sobre él recae una oscura maldición secreta. Jugador empedernido, miles de años atrás hizo una apuesta con el demonio, Mr. Nick, con la que se ganó la inmortalidad. Siglos más tarde, al conocer a su amor verdadero, Dr. Parnassus hizo otro trato con el diablo, comerciando su inmortalidad por su juventud, con la condición de que cuando su hija alcanzara la edad de 16 años, pasara a ser propiedad de Mr. Nick.



Valentina está cada vez más cerca de esta importante fecha y el Dr. Parnassus está desesperado por protegerla de su inminente destino. Mr. Nick se presenta para llevársela pero como siempre está dispuesto a hacer una nueva apuesta, renegocia el envite. Se quedará con Valentina el que primero seduzca a cinco almas. En su viaje recluta a una serie de personajes salvajes, cómicos y convincentes, y el Dr. Parnassus entregará únicamente la mano de su hija a aquel que le ayude a ganar.



En esta contrarreloj, el Dr. Parnassus deberá luchar para salvar a su hija en un entorno donde los obstáculos se suceden de manera interminable y así deshacer los errores de su pasado de una vez por todas.

Crítica

Puntuación
del crítico: 7

La última película de Terry Gilliam viene acompañada con el morbo de que es la última peli en la que aparece el fallecido Heath Ledger, quienes Johnny Depp, Colin Farrell y Jude Law tuvierón que sustituir en las escenas que no termino de rodar por su repentino fallecimiento (menos mal que no se rueda en el orden que transcurre la película si no por escenarios, ya que les ha quedado un apaño bastante convincente). Pero entre los actores destacaria a la curiosa Lily Cole quién actualmente esta rodando la nueva versión de Phantasmagoria con Marilyn Manson.


La historia mola y el apartado visual es una delicia como nos tiene acostumbrados Gillian, y aunque es una película poco comun y fuera de lo comercial (pese a su gran plantel de actores), le achacaria que a ratos se hace un poco pesada y el final se les va un poco de las manos, creando algunas incognitas incomodas, pero como la película es tan fantasiosa y la realidad brilla por su ausencia podria dar el pego.


Si te gusta la fantasia mas extraña (aún más que las de Tim Burton) y las películas de Gilliam no te la puedes perder.

Ahora a la espera de su proxima trabajo "El hombre que mató a Don Quixote", un titulo de lo más llamativo para los españoles y que en la loca e imaginativa mente de Gillian puede resultar un film de lo más cercano a las locuras de Cervantes y su Don Quijote, aunque no sea una adaptación de dicho libro.

Chema
Ficha de Película enviada por
Jack Skeleton
el 29 de Octubre de 2009
video
visitantes