Adéntrate en un mundo mágico donde podrás entrar en la piel de un tejedor que se verá obligado a rasgar los tejidos de la realidad con las notas musicales de su bastón.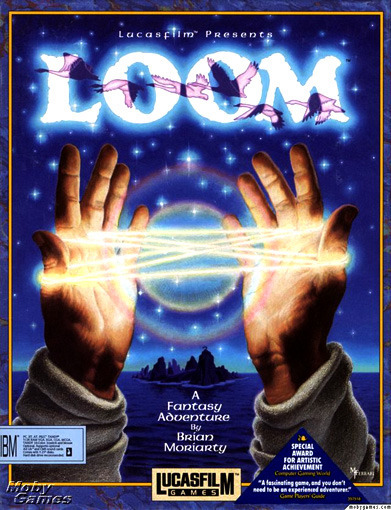 Contemplad el tejido de la realidad, puedo rasgarlo y modelarlo como se me antoje.
Crítica

Puntuación
del crítico: 10

Deliciosa aventura gráfica donde las hayan. Posiblemente la más original de todas las que hayan existido por su curiosa interfaz y su adictivo modo de juego.

Y es que, aunque estemos ante uno de los primeros juegos de aventura gráfica de Lucas Arts, éste no emplea el modo SCUMM (Script Creation Utility for Maniac Mansion), éste ha sido variado de tal manera que no contamos con los medios tradicionales, tales como Abrir, Cerrar, Empujar, Tirar, Hablar con... ¿Entonces? Para realizar las acciones, debemos de realizar hechizos a partir de notas musicales.


En un principio es posible que la confusión se adueñe del jugador, no acostumbrado a experimentos tan extraños como este. Aparte, el juego puede convertirse en una repetición constante de combinaciones en diferentes objetos. No obstante, la lógica está presente a lo largo del juego y los puzzles no son nada descabellados, de hecho están muy bien pensados y bastante coherentes, sorprende.


Además, una vez se pilla el tranquillo resulta muy, pero que muy fácil (por desgracia, luego diré por qué) y adictivo, sobre todo esto último, la verdad es que las acciones normales no se echan nada en falta y las posibilidades son muchas, con notas musicales que descubrir.
Con esto, podemos ver que se trata de un juego de exploración y experimentación, donde la conversación se encuentra casi inexistente, salvo en puntos clave y cuando es necesaria. No obstante, no hay elección de preguntas ni nada por el estilo, por lo que no es muy importante para los puzzles.

La historia, por otra parte, es tan original como el modo de juego. Va de un joven aprendiz de tejedor llamado Bobbin Threadbare, que se verá envuelto en una trama donde su Gremio de tejedores (hay muchos más Gremios aparte de este en el mundo mágico del juego) desaparecerá, convertidos en cisnes. Es entonces cuando nuestro protagonista tomará las riendas de la historia y tratará de desentrañar el misterio. Es una gran historia porque al final nada es lo que parece y hay una serie de revelaciones que sorprenderán a más de uno. Aparte, es un derroche de imaginación bestial, veremos varios lugares del mundo de Loom y la variedad es sublime. Desde una aldea que siempre está de noche, pasando por un campo verde repleto de pastores, hasta un castillo de herreros trabajando con fuego. Lo dicho, un derroche de imaginación, ojalá hicieran una película con todo este material de fantasía.



Los gráficos son como los de The Secret of Monkey Island, a pesar de contar con una paleta de colores bastante escasa (16 colores), se las apañan para lograr paisajes con bastantes detalles. Así pues, veremos una ciudad de cristal con un eterno brillo, sprites de personajes bastante resultones (cuando el canciller es... masacrado) y una ambientación general de sobresaliente, como es típico en una aventura gráfica de Lucas Arts de la época. Hay una versión en 256 colores, tal y como se hizo con el primer Monkey, aunque no he tenido la oportunidad de hacerme con ella para comprobar qué tal se ve.


De todas maneras, aunque haya pasado el tiempo y se hayan quedado simples y obsoletos, siguen siendo todo un ejemplo de cómo hacer una ambientación de categoría. Que aprendan los programadores.

El único inconveniente que encuentro al juego es que puede resultar demasiado lineal y se hace muy, pero que muy corto. Aún así, de verdad que merece la pena jugarlo.
Aparte, es curioso, pero el final es MUY abierto, extraña que los de Lucas Arts no se hayan animado a continuar con una secuela. Ojalá algún día nos den una sorpresa. Una lástima que el género de las aventuras gráficas no interese a casi nadie hoy en día.

Trucos y guias
Aquí tenéis la guía del juego, por si quedáis atascados.

http://www.solucionesytrucos.org/solucion.php?id=6035&aqui=pc

Para obtenerlo, lo mejor es buscar por Google el SCUMM y después el propio juego, es bastante fácil y en la primera página puede salir, sobre todo si buscas la selección de Lucas Arts, que es bastante jugosa. Suerte.

Ovidio Miguel Maestro (Atonman)
Ficha de Videojuego enviada por
Atonman
el 6 de Septiembre de 2005
visitantes