Nueva encarnacion de Perry Farrel, con ecos a Jane´s Addcition y Porno for Pyros.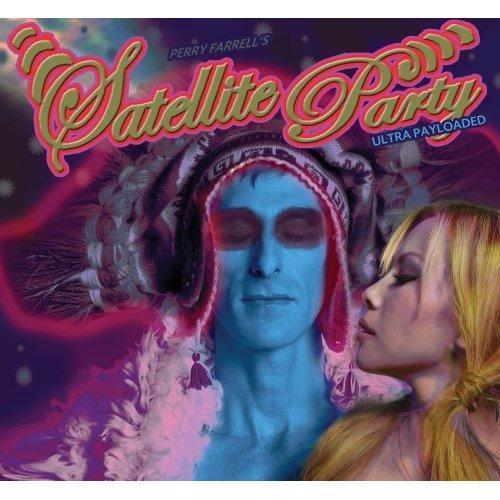 Sinopsis
"Wish Upon A Dog Star" - 4:45 (featuring Hybrid)
"Only Love, Let's Celebrate" - 3:50
"Hard Life Easy" - 4:13
"Kinky" - 4:01 (featuring Hybrid)
"The Solutionists" - 4:23 (featuring Thievery Corporation)
"Awesome" - 4:26 (featuring Hybrid)
"Mr. Sunshine" - 4:20
"Insanity Rains" - 3:28
"Milky Ave" - 4:28
"Ultra Payloaded Satellite Party" - 5:27
"Woman in the Window" - 4:00 (featuring Jim Morrison)

Perry Farrell - Lead Vocals, Programming (2, 3, 5, 7, 9-11), String Arrangement (3)
Nuno Bettencourt - Lead Guitar, Bass, Backing Vocals, Keyboards (3, 4, 8, 9), String Arrangement (3, 6, 9), Organ & Piano (11)
Kevin Figueiredo – Drums
Etty Lau Farrell - Backing Vocals
Carl Restivo – Backing Vocals (8, 10), Additional 808 Programming, Bass (Live)
Peter DiStefano - Acoustic guitar (1, 4, 6)
John Frusciante - Guitars (3)
Flea - Bass (3, 9)
Peter Hook - Bass (1, 4)
Fergie - Backing Vocals (1, 10)
Hybrid - Programming (1, 4, 6)
Thievery Corporation - Programming (5)
Jim Morrison - Vocals (11)
Jack Irons - Drums (uncredited)
Harry Gregson-Williams - String Arrangement, Conduction (5, 6, 7, 11) [The Satellite Strings Orchestra]
Suze DeMarchi - Backing Vocals (1-3, 5, 8)
Dan Chase - Percussion (2, 3)
Joey Heredia - Percussion (2, 3, 7, 10)
Kenneth Crouch - Piano (3, 7)
Milen Kirov - Piano (1)
Jamie Mahoberac - Keyboards (3)
Tim Pierce - Guitars (5)
Anthony J. Resta - Programming
Daniel Sternbaum - Engineering
Scott Wiley - Engineering (1, 2, 6, 7, 9, 10)
Anthony "Rocky" Gallo - Engineering and Mixing (1-3, 11), Additional tracking (11)

Crítica

Puntuación
del crítico: 7

Para el que no lo conozca, Farrel es el cantante y creador de una de las bandas mas influyentes de la historia reciente del rock, Jane´s Addiction. Tambien ha formado Porno for Pyros, y anteriomente Psi-Com. Ultimamente ha estado mas metido en el rollo Dj, asi como coordinando el festival que el creo en los 90, Lollapalooza, pero ha sacado tiempo para elaborar este proyecto, Satellite Party, y su disco "Ultra Playloaded".


En el han colaborado gente como Frusciante y Flea de los Peppers, Peter Hook de New Order, la bella Fergie de Black Eyed Peas, el otrora guitarrista de Extreme Nuno Bettencourt, el ex-Porno for Pyros Peter DiStefano, así como otros baterias y teclistas.
La verdad, el line up actual no se quienes lo forman, puesto que en los videos que he visto cambia a menudo.
"Wish you upon a dog star" nos presenta el disco, y es el tema mas directo y bailable del mismo, merced a su ritmo continuo y el bajo cargado de chorus. Farrel como siempre, con su aguda voz cargada de carisma pero sin llegar a ser un cantante de desbordante calidad. Peter Hook de New Order mete el bajo, y bien que se nota.


La sombra de Jane´s Addiction se refleja en "Only Love, Let's Celebrate", pero mas bien la de su ultima encarnacion, mas funky y bailable, menos agresiva y combativa. Muy bueno el trabajo de Nuno Bettencourt en su solo, asi como ese final que te da ganas de irte de fiesta a los Angeles a bailar en alguna mega discoteca en la que Farrel actue en su rol de DJ. Una de mis canciones favoritas es "Hard life easy", perfectamente podria haber sido firmada por los Red Hot Chili Peppers, quienes prestan a John Frusciante y Flea para el tema. Esas lineas de bajo son inconfundibles, y junto a un estribillo adictivo cargado de arreglos de cuerda facturan un tema que sobresale sobre el resto.


De nuevo con Hook al bajo, "Minky" es otro artefacto de hard rock bailable bastante efectivo, aunque no sea de lo que mas me engancha de este trabajo, para mi gusto flojea un poco el estribillo. El ritmo algo acelerado lo rompe "The solutionists", con su tono pseudo bailable y una orquestación bastante destacable. Farrel sigue sin sorprendernos, otorgandonos el tono exacto que se le presupone, algo mas elegante tal vez.


Pero para satisfacción nuestra, nos entrega una hermosa "Awesome" donde las guitarras acusticas y unos elegantisimos arreglos de cuerda acompañan a un Farrel tranquilo como nunca, cantando en un tono mucho menos agudo de lo (ritual de lo) habitual. De lo mejor del disco, pese a cierto deje en algun momento a banda sonora de alguna pelicula de Working Title. "Mr. Sunshine" sigue la estela de "The Solutionists" respecto a linea estilística: funk relajado, cargado de arreglos y con preponderancia del bajo. Bastante interesante, aunque no rompedora.


"Insanity Rains" es el tema punk del disco (con un Farrel algo pasota en su interpretación) que destaca mas que nada por lo rompedor de su propuesta en el conjunto. Divertida, la verdad.
Una de mis debilidades es "Milky Ave", en la que de nuevo participa un puasado Flea, y que resulta un tema de lo mas sencillo y cercano. De nuevo, me resulta terriblemente visible el poder que tiene el buen uso de los arreglos en una canción, como puede llegar a engrandecerla. La homonima "Ultra Payloaded Satellite Party" nos trae algun recuerdo a los Jane´s Addiction mas orientales, aunque su estribillo incide en la vena mas agresiva y rápida, en la que por cierto mete coros Fergie de Black Eyed Peas. Curiosa alianza. Aunque se queda en bragas frente a "Woman in the window", donde canta nada mas y menos que Jim Morrison, gracias al poder de las nuevas tecnologías. Ahí es nada, Morrison recitando un poema en pleno 2007.


Asi termina este Ultra Payloaded, un trabajo notable, que no supera metas anteriomente conquistadas, pero que supone un fresco reencuentro con una de las mentes mas importantes de la musica alternativa de los ultimos 20 años.

Ficha de Disco enviada por
pitopocho
el 16 de Octubre de 2007
video
visitantes