Let's get started!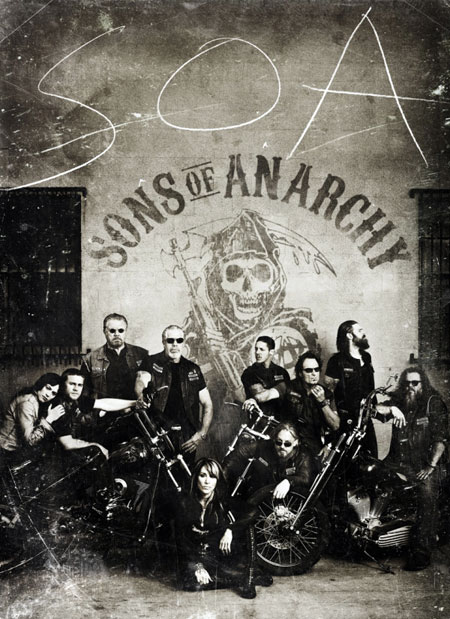 Hijos de la anarquía (T4)
Título original
Sons of Anarchy
Nacionalidad
Estados Unidos de América
Año
2011
Género
Drama · Genero_Negro
Formato
Color
Duración
60
Director
Kurt Sutter, Guy Ferland
Guión
Kurt Sutter
Fotografía
Paul Maibaum
Música
Bob Thiele Jr.
Producción
FX Network / Fox 21
Reparto
Charlie Hunnam, Ron Perlman, Katey Sagal, Mitch Pileggi, Magie Siff, Mark Boone Junior, Johnny Lewis, Theo Rossi, Taylor Sheridan, Kelly Galindo, Cameron Goodman, Tony Swift, Ryan Hurst, Kim Coates, Dayton Callie, Dendrie Taylor, Nicholas Guest, Sprague Grayden, Emilio Rivera, Keir O'Donnell, Taryn Manning, Tory Kittles, Kurt Sutter, William Lucking, Ally Walker, Winter Ave Zoli, Dendrie Taylor, Kenny Johnson, Winter Ave Zoli, Danny Trejo, Ray Mckinon, David Hasselhoff
Sinopsis
Los Hijos de la Anarquía son un grupo de moteros que, utilizando métodos poco legales, trata de proteger su pueblo (Charming) de los traficantes de droga. Y, de paso, mantener en pie su negocio ilegal de venta de armas. (sinopsis sacada de laguiatv.com).

Crítica


Puntuación
del crítico: 8

Yo me esperaba que la trama iba a transcurrir en el interior de la cárcel durante esta temporada pero en lugar de eso comienza en una gran elipsis justo cuando los Sons salen fuera. Realmente la decisión de Kurt Sutter ha sido acertada a la larga ya que lo otro hubiera sido alargar la serie todavía más



La cuarta ha sido la mejor temporada de la serie con diferencia. Avanzando en tramas, metiendo chicha buena y progresión dramática de calidad. Hasta el capítulo 11 más o menos ha sido un órdago detrás de otro, momentos épicos como la muerte de Piney o la delación de Otto, vamos tan buena que estaba planteándome ponerle un 10 a esta temporada, pensando que por fin iba a dar el salto a las grandes series, que iba a estar finalmente a la altura de un "The Shield"... pero la cagan.


La cagan en una Season finale vergonzosa que destruye todo lo que había preparado. Un anti-climax, un "aquí no ha pasado nada" que parte de una excusa de guión deplorable (el cartel de Galindo trabajando para la CIA), todo ello para seguir pariendo temporadas claro, desvaneciéndose con ello la posibilidad de darle a esto otro nivel.



Con un final tan cobarde y tramposo, lo bueno queda empañado y ahora me queda claro que Sons of anarchy nunca estará a la altura de un "The Shield", a la que por cierto dedican un par de homenajes ésta temporada (graciosa la muerte de Kenny Johnson), que es una serie buena sin más, entretenida y con algunos buenos momentos asilados.



Todos los fichajes de este año han resultado decepcionantes, Danny Trejo, Ray Mckinon, David Hasselhoff, en tanto a que sus personajes son meros comparsas, sin interés.

Muy bien Ron Perlman esta temporada, odioso a más no poder, explotando toda esa maldad que ya sabíamos que estaba ahí y muy decepcionante su "salida" del club motero.

En resumen, una oportunidad perdida de llegar a ser algo más, pero una buena temporada en líneas generales, la que más he disfrutado hasta ahora junto con la primera.

Davis
Ficha de Serie de TV enviada por
DAVIS
el 10 de Enero de 2012
video
visitantes