Este si es el verdadero "Chacal"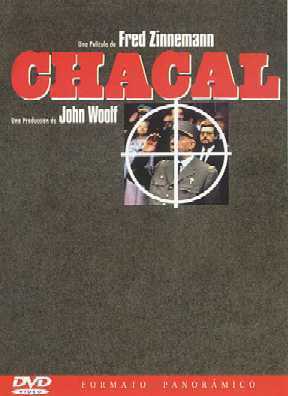 Chacal (1973)
Título original
"The Day of the Jackal"
Nacionalidad
Francia · Reino Unido
Año
1973
Género
Accion
Formato
Color
Duración
136
Director
Fred Zinnemann
Guión
Frederick Forsyth
Música
Georges Delerue
Reparto
Edward Fox, Terence Alexander, Michel Auclair, Alan Badel, Tony Britton, Denis Carey, Adrien Cayla-Legrand, Cyril Cusack, Maurice Denham, Bernard Archard, Vernon Dobtcheff, Jacques Francois, Olga Georges Picot, Raymond Gerome, Barrie Ingham, Derek Jacobi, Michel Lonsdale, Jean Martin, Ronald Pickup, Jacques Alric, Eric Porter, Anton Rodgers, Delphine Seyrig, Donald Sinden, Jean Sorel, David Swift, Timothy West, Colette Berge, Edmond Bernard, Gerard Buhr, Philippe Leotard, Van Doude, Maurice Teynac, Nicolas Vogel
Sinopsis
Chacal es un asesino a sueldo de ámbito internacional, hombre de mil rostros e identidades, cuya verdadera personalidad nadie conoce. Él ha sido el elegido por la OAS para llevar a cabo un audaz y arriesgado 'trabajo': Asesinar al Presidente de la República Francesa, el general De Gaulle.

Crítica


Puntuación
del crítico: 8

Excelente película sobre el escurridizo asesino a sueldo que le da mil vueltas a la protagonizada por Bruce Willis y Richard Geere. Aqui no hay ningun terrorista del Ira metido con calzador para que salga la estrellita de turno. El ritmo es trepidante y mantiene atrapado al espectador , siempre pasan cosas interesantes: El asesino ingeniandoselas para esquivar a la policía, la policía intentado averiguar cual es el asesino sin nombre , etc.. El film de 1997 en comparación con este tiene muchas lagunas , copian algunas escenas interesantes y las hacen peores , el asesino es un malo malísimo , en esta no me lo parece , lo demas lo rellenan con algunas muertes mas salvajes y sin sentido ,algunas secuencias innecesarias y aburridas y ademas si Richard Geere sabe como es el asesino desde el primer momento ya lo tienen todo resulto , aqui tienen que descubrirlo e investigar.


En fin que este Chacal lo recomiendo totalmente.

OdioLosBodrios

visitantes