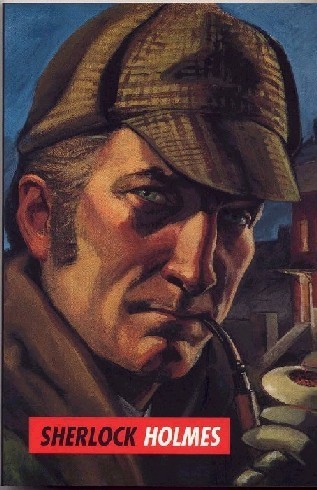 Rasgos principales de su personalidad, historia y bibliografía principal
Sherlock Holmes nació el 6 de enero de 1854. Su padre era un hacendado inglés y su madre descendía de una estirpe de pintores franceses. Tiene un hermano, Mycroft, que gracias a las portentosas facultades para gestionar ingentes cantidades de información que posee, trabaja casi anónimamente como coordinador general e informador interno de los asuntos del gobierno británico.



Tras su graduación en la universidad, se aloja cerca del British Museum para poder estudiar las ciencias necesarias para el desarrollo de su carrera posterior. Conoce a Watson en 1881 en el Hospital Saint Bartholomew. Rehusa un título de sir, pero acepta la Legión de honor.

Su gran enemigo, también de extraordinarias facultades intelectuales, es el profesor Moriarty, que llegó a acabar aparentemente con la vida del eminente detective en la cascada de Reichenbach ("The Adventure of the Final Problem"). Doyle tuvo que optar por resucitar a su héroe cuando miles de lectores protestaron llevando crespones negros en el sombrero en señal de luto. Sherlock Holmes reaparece en el caso "La Casa Vacía" ("La Reaparición de Sherlock Holmes", 1903).



Tras una carrera de 23 años, de los cuales Watson compartió 17 con él, Holmes se retiró a Sussex donde se dedicó a la apicultura y llegó a escribir un libro al respecto titulado "Manual de apicultura", con algunas observaciones sobre la separación de la reina, aunque posteriormente a su jubilación como detective dedicó dos años a preparar concienzudamente una importante acción de contraespionaje poco antes del inicio de la Primera Guerra Mundial. Nada más consta sobre él a partir de 1914.

Opinión del crítico

Puntuación
del crítico: 10

Arthur Conan Doyle creó con el famoso detective del 221B de Baker Street a todo un mito, innumerablemente adaptado tanto en cine como en televisión u otros medios, pero ¿como es el personaje para que haya encandilado a varias generaciones a lo largo de más de un siglo?



Sherlock Holmes es un detective privado alto, delgado, de nariz aguileña, poco emocional, irónico, ingenioso e intelectualmente inquieto. En ocasiones resulta un tanto brusco pero es cortés con las mujeres a pesar de que desconfía de ellas. Watson resalta en uno de sus casos la presencia de una bella dama llamada Irene Adler, la cual es considerada siempre por Sherlock como "La" mujer, a sus ojos ella eclipsa y domina a todo su ser (Un escándalo en Bohemia, 1892). No es muy ordenado en la rutina cotidiana, es muy habilidoso disfrazándose, fuma en pipa, toca el violín (un Stradivarius y a menudo a horas poco adecuadas) con maestría, es un experto apicultor, excelente boxeador, tiene un gran conocimiento científico en especial en química y, cuando se aburre por falta de los retos intelectuales que suponen sus casos, consume cocaína en una solución al 7%, hecho que preocupa a su compañero, amigo y cronista Watson, con quien vive hasta finales del siglo XIX en el número 221B de Baker Street, en Londres.



Sin embargo, su característica más notoria es la utilización del razonamiento puro para resolver los casos más intrigantes (adelantándose a investigadores modernos como los de "C.S.I."), pudiendo llegar a las conclusiones más sorprendentes a partir de los detalles aparentemente más triviales gracias a su extraordinario poder de concentración y a sus amplios conocimientos tanto científicos como de las más variadas disciplinas. Él es el creador de su propia profesión, "Detective consultor", que consiste en ayudar a aclarar los casos que presentan dificultades superiores a las habilidades que poseen los detectives oficiales (de Scotland Yard) o detectives particulares, como es el caso del detective Lestrade, Gregson, Hopikns y otros tantos que se quedan con el éxito de la resolución del crimen.



Sherlock tiene un hermano mayor, Mycroft Holmes, que posee poderes de observación y deducción mayores que los suyos, pero es incapaz de aplicar sus habilidades a una actividad detectivesca ya que no tiene ambición y energía. Es miembro del Club Diógenes.

Por todos estos detalles, y porque el personaje pese a sus características a veces un poco "particulares" (como lo de la cocaina), se deja querer, sin lugar a dudas creo que es el MEJOR personaje de ficción de toda la historia en mi modesta opinión. Y eso que yo me aficioné a él en su momento por la famosa serie de animación de los 80 donde los personajes eran perros...

Oscar Ferrer by Dusk
Ficha de Personaje enviada por
dusk
el 28 de Noviembre de 2005

visitantes