El mayor torneo del siglo dara comienzo.Los luchadores estan listos y forman sus equipos para descubrir quien es el mas fuerte de la tierra.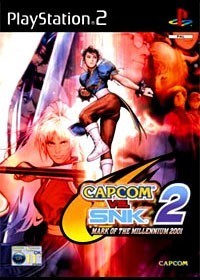 Uno de los mejores juegos de lucha
Crítica


Puntuación
del crítico: 9

Grandisimo juego de lucha.Adictivo, rejugable, BSO muy buena y con dos personajes ocultos que costaran conseguirlos, os lo aseguro.
Lo primero a destacar es la gran cantidad de personajes seleccionables, 46+2 ocultos, una increible cifra.Entre los personajes estan, en el bando de capcom, los personajes mas conocidos de Street Fighter (Que no son pocos), la sensual Morrigan y Eagle, un personaje que hizo su aparicion unicamente en el primer Street Fighter y aqui vuelve a aparecer.


En el bando de SNK, obviamente, tenemos a los de King Of Fighters, a Rock de Garou:Mark of the wolves y Nakoruru y Haohmaru de Samurai Showdown.
Las animaciones, aunque sean sprites reciclados de otros juegos, siguen siendo muy buenas y fluidas.El juego tiene muchos modos de juego, entre ellos un modo de editar los colores, para que Blanka se convierta en Bestia de X-men o Mai Shiranui aparente ir sin ropa.La imaginacion al poder.


Otro modo a destacar es el online, que obviamente te permite jugar contra otros jugadores del mundo.Una delicia señores.La pega es que los unicos que poseen este modo son las versiones de Dreamcast y XBOX, de PS2 la desconozco y dudo que lo tenga.
En fin, aunque aparente ser mas de lo mismo, el sistema de equipos y los modos de juego hacen de el un juego indispensable para los fanaticos de dar golpes y demas.

Trucos y guias
Obtener a Shin Gouki (Evil Akuma):
-Llega a la ultima fase con groove S, N o K
Obtener a God Rugal (Ultimate Rugal):
-Llega a la ultima fase con groove C, A o P
Puntos Groove infinitos:
-Completa All Survivor Mode

KoNrAd R.A.
Ficha de Videojuego enviada por
KONRAD
el 18 de Junio de 2005

visitantes