Las tinieblas nublan los cielos, y una masa de seres demoniacos comienza a desatar el caos en todos los rincones del mundo.Shadow debera decidir que accion ejecutar mientras intenta recuperar su memoria perdida.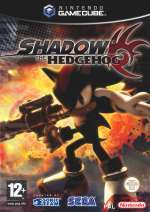 El debut de Shadow es bastante pasable
Crítica


Puntuación
del crítico: 8

¿Que decir del polemico Shadow the Hedgehog? Simplemente...Aceptable.
Los graficos no son una maravilla , pero se les hace la vista gorda.La OST como siempre notable, y como ocurrio en Sonic Heroes, la jugabilidad es una tortura y al igual que en Heroes, estamos ausentes de las voces japonesas (A excepcion de Xbox, que cambiando el idioma de la consola es capaz de ponerlas), teniendo un doblaje que diria que es peor que en Sonic Heroes.


Pero el uso de armas y vehiculos, y la capacidad de ir por caminos alternativos segun las misiones que ejecutemos para desbloquear diferentes finales hace que el juego tenga bastante vidilla y de bastantes horas de juego.
En definitiva, no es el mejor juego del universo Sonic, pero os aseguro que por las novedades que aporta, hace que el juego sea bastante jugable.

Segunda opinion:
Bien, despues de destriparlo por completo, Shadow the hedgehog se merece una nota mejor que la que le puse.Puede que al principio sea algo extraño acostrumbarse, pero mas tarde te das cuenta que estas ante un gran juego.Por ello rectificare un par de comentarios de la opinion de arriba.

"La jugabilidad es una tortura"
No exactamente.La jugabilidad a mejorado respecto a Heroes, aunque aun tiene algun par de fallos.

"Un doblaje que diria que es peor que en Sonic Heroes"
Falso.Aunque no me guste las voces inglesas, la mayoria de voces son decentes, como la de Black Doom o la de Tails, que aqui han fichado a un nuevo doblador que le da un mejor tono de voz comparado con los anteriores.

"Los graficos no son una maravilla"
Tal vez un par de fases sean bastante sosas, pero las fases mas avanzadas son un encanto, como la de Cosmic Fall o Digital Circuit.

"Desbloquear diferentes finales"
No solo eso.Al igual que en anteriores capitulos de Sonic y Cia, debemos alcanzar un rango A en cada fase para desbloquear un jugoso secreto.Pero lo que mas me llama la atencion es que, cada vez que completemos el juego, se guardara el camino que hemos proseguido con sus respectivas secuencias de video.Osea, podemos jugarlo una y otra vez yendo cada partida por diferentes caminos hasta llegar a la friolera cifra de 326 caminos, todo un desafio.Aparte, en cada fase debemos encontrar 5 llaves, las cuales abren una misterios puerta, de la cual su interior puede ser beneficioso o no durante el transcurso del nivel.



En definitiva, me arrepiento de haberle puesto una nota baja a un juego tan inferiorizado por la mayoria de medios, ya que se merece mucho mas.

KoNrAd R.A.
Ficha de Videojuego enviada por
KONRAD
el 9 de Marzo de 2006

visitantes