Los luchadores de la mítica saga de SNK saltan a las tres dimensiones. No están dispuestos a comerse el mundo, pero al menos sí tratarán de hacerte pasar un buen rato.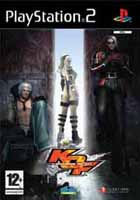 Crítica

Puntuación
del crítico: 7

Reconozcamos que SNK-Playmore no es SNK, pero al menos están tratando de rescatar su espíritu. Una empresa loable, pero ¿conseguirán finalmente su objetivo?

Bueno, pasemos al juego... No es la primera vez que los personajes de SNK pasan a las 3-D. Ya hubo otros juegos en el pasado como Samurai Shodown 64, Fatal Fury Wild Ambition o Buriki One, todos ellos para la Hyper Neo Geo. Pero lo que sí es cierto es que la franquicia King of Fighters (KoF) se ha pasado a las tres dimensiones.



La historia del juego no parece seguir la continuidad de KoF y nos muestra un torneo parecido a los King of Fighters que organizaba Geese Howard, el maloso de la saga Fatal Fury, en South Town. En este caso es la organización mafiosa Mefistófeles quien se encarga del torneo.

En el plantel de luchadores encontramos a los clásicos (y no tan clásicos) de SNK como Terry Bogard, Kyo Kusanagi, Iori Yagami, Leona Heidern, Ralf Jones, Athena Asamiya, Clark Steel, Ryo Sakazaki, Yuri Sakazaki, Mai Shiranui, Seth, K', Maxima y Rock Howard. Junto a ellos hay varios personajes nuevos: los hermanos Alba y Soiree Meira, que buscan vengarse de Mefistófeles y, en concreto, de su jefe Duke; Lien Neville, una belleza rubia y letal; Mignon Bearnt, una especie de bruja novata (y tonta); y Chae Lim, alumna de Kim Kap Hwan, maestro coreano de Tae Kwon Do.


Un buen plantel, cada uno con sus ropas alternativas (algunas muy buenas, otras mejor podrían haberse quedado en el armario)... aunque se echan en falta personajes carismáticos como Joe Higashi, Benimaru Nikaido, Kim Kap Hwan o Blue Mary.

En materia gráfica, cabe decir que los personajes han dado un salto a las 3-D bastante aceptable, con buenos modelados muy próximos a los personajes de los anteriores KoF. Los movimientos están bien, pero algunas veces pecan de ser un tanto bruscos, debido sobre todo a la velocidad del juego, que en algunos casos puede llegar a ser mareante.


Y los escenarios, aunque bastante bien hechos, no llegan al nivel de otros juegos y algunos son sosos como ellos solos. Sin embargo podemos encontrarnos con agradables excepciones, como el escenario de Esaka, con el Neo Geo Land de fondo, y el de la Geese Tower, con el mismísimo Geese Howard observando el combate mientras suena su tema clásico en su enésimo remix.



En el apartado sonoro, contamos con buenas músicas para acompañar, aunque ninguna de ellas nos llegará tanto como lo hicieron las antiguas tonadillas de anteriores KoF (exceptuando el tema de Geese, genial como siempre).
Los efectos sonoros se mantienen en la línea de lo útil. El juego permite poner las voces en japonés o en inglés. Sinceramente, prefiero la versión en japonés, no sólo porque todos los personajes conservan a sus actores de doblaje originales, sino porque las voces en inglés chirrían demasiado, no van con el carácter de los personajes en absoluto.



Jugablemente, aun siendo en 3-D, el juego se deja sentir como si aún estuviésemos en las dos dimensiones tradicionales. Eso sí, podemos desplazarnos por el escenario aprovechando su tridimensionalidad, pero si ya estás acostumbrado a jugar en 2-D, no te será difícil coger el tranquillo al juego.
La dificultad no es que sea muy elevada, aunque en casos como la batalla contra Duke en el Modo Historia llega a fastidiar (y más sabiendo que Duke tiene barra de especiales infinita, lo cual lo convierte en una mala bestia y un guarro de cuidado).
La velocidad es desquiciante en algunos momentos, llegando a confundirte notablemente. Lo único que veo aquí es que te acabes acostumbrando, como a mí me ha pasado, a que los golpes casi ni se vean de lo rápidos que van.

Los modos de juego son los siguientes:

- Modo Historia: tradicional modo que, en este caso, puede hacerse corto. Es del tipo 1 vs 1, en vez del 3 vs 3 típico de KoF.

- Modo Versus: tanto contra la CPU como contra un amigo. Pueden ser combates 1 vs 1 o 3 vs 3.

- Modo Desafío: tiene con dos categorías, el clásico Time Attack y el Modo Misión.
En el Modo Misión debemos cumplir los requisitos que se nos imponen en los combates para obtener bonificaciones como nuevas variaciones para los trajes (algunas variaciones son guiños a los antiguos juegos de SNK, como el traje de Kaede, de Last Blade, que lleva Rock o que Leona se vista como Rosa, de Kizuna Encounter) y nuevos escenarios.


La dificultad aumenta considerablemente y ello alargará bastante la vida útil del juego.

- Modo Perfil: aquí es donde podremos consultar las fichas de los personajes, que se obtienen al pasarte el Modo Historia con ese personaje.
Esta opción incluye también el Rigging Mode, un modo que permite añadir unos extraños complementos a los trajes de nuestros personajes. Cada luchador tiene su propio complemento, como un disfraz de lobo para Terry o alas y cuernos de demonio para Duke. Curioso cuanto menos.

En definitiva, Maximum Impact es un juego entretenido y que puede no convencer por su calidad técnica o porque algunos sientan que se "traiciona al espíritu de KoF". Pienso que no estará a la altura de grandes juegos en 3-D como Soul Calibur y que no hablamos de la misma compañía que creó joyas como Metal Slug, Real Bout Fatal Fury Special o Garou: Mark of the Wolves, pero es un juego que cumple perfectamente su función de entretener a pesar de sus carencias.



Esto no quita, por supuesto, que haya muchos aspectos que pulir y que ya han sido mencionados.

PD: Por cierto, la versión en X-Box aún no está disponible, pero sí anunciada. Tendrá modo on-line y algún que otro extra más.

Trucos y guias
- Pásate el juego con cualquier personaje para obtener su ficha y pasar a su Rigging Mode.

- Si te pasas el juego con Alba y Soiree, podrás jugar con Duke.

Carlos BG aka Fëadraug
Ficha de Videojuego enviada por
Draug
el 18 de Junio de 2005

visitantes