El peor trabajo del mundo, los mejores días de su vida.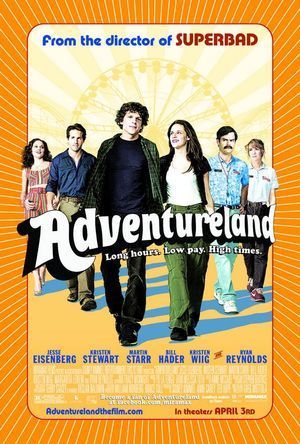 Adventureland
Título original
Adventureland
Nacionalidad
Estados Unidos de América
Año
2009
Género
Comedia · Drama · Romantica
Formato
Color
Duración
107
Director
Greg Mottola
Guión
Greg Mottola
Fotografía
Terry Stacey
Música
Yo La Tengo
Producción
Miramax Films, Sidney Kimmel Entertainment, This Is That Productions
Distribuidora
Miramax Films
Reparto
Jesse Eisenberg (James), Kristen Stewart (Em), Ryan Reynolds (Brad), Margarita Levieva (Lisa P.), Wendie Malick (Sra. Brennan), Matt Bush (Tommy), Kristen Wiig (Paulette), Bill Hader (Bobby), Martin Starr (Joel), Michael Zegen (Eric)
Sinopsis
Ubicada en los ochentas, la vida del joven James Brennan se viene abajo cuando tiene que cancelar un viaje a Europa por problemas económicos, así que busca trabajo en el parque de diversiones Adventureland donde pasará un verano inolvidable.

Crítica


Puntuación
del crítico: 9

Un caso en donde la cinta se vende mal, al ver el trailer te esperas una continuación de Superbad o derivados, es decir, vulgaridades y excesos adolescentes, pero Adventureland se encuentra en un nicho distinto, es un melodrama cómico (o al revés) maduro.
Greg Mottola realizó una gran jugada, otorgó a Adventureland lo que faltaba en Superbad, algo más básico y aún así más complicado, el examinar las travesías adolescentes más comunes de manera más humana. Vamos, que los personajes se desarrollan, todas las emociones de la cinta surgen en sus interacciones y no gracias a situaciones "externas" convenientemente colocadas para producirlas.


Gran parte del éxito de la cinta y de que funcione recae en el elenco, con un Eisenberg modulado y simpático, una Stewart que demuestra que es una gran actriz cuando se aleja de Twilight, un Reynolds manejándose con gracia en un terreno más dramático y los roba escenas Hader y Wiig cuyos personajes me gustaron mucho.


Por cierto, el soundtrack es genial, con excelentes canciones y artistas de la época como The Cure, David Bowie, Lou Red, The Replacements y más, y los alternativos de Yo La Tengo que proveen algunos temas.
Ojalá hubiera más propuestas así, interesantes y contenidas, resultan más disfrutables sin las exageraciones incómodas que abundan en las cintas juveniles de hoy.

Frog
Ficha de Película enviada por
Frog
el 24 de Febrero de 2011
video
visitantes