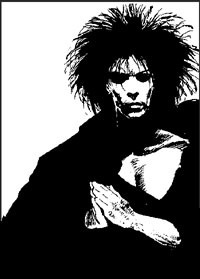 Sandman
Se le conoce también como:
Lord of the Dreams, El Señor de los Sueños, Morpheo
Nacionalidad
Estados Unidos de América
Año Primera aparición
1988
Primera aparición
Sandman # 1
Editorial o productora original
DC
Personaje original de:
comic
Autores principales de este personaje
· Neil Gaiman
Rasgos principales de su personalidad, historia y bibliografía principal
Sandman es Morpheo, el rey del mundo de los sueños. De caracter reservado y misterioso, rige el mundo de los Sueños a su voluntad desde que existen los sueños, hasta que a principios del siglo XX un hechicero principiante lo encierra en una burbuja de cristal, y es liberado en 1988 a la muerte del hechicero.


Este el el comienzo de la caracterización que de Sandman hizo el autor Neil Gaiman, renovando el clásico personaje de DC que fuera superhéroe en los años 60 y que tiene también su serie, Sandman Mistery Theatre.


A lo largo de 75 números Neil Gaiman narró la vida del Señor de los Sueños y su búsqueda personal, marcando un hito en la historia de los comics y ganando premios continuados a su labor como escritor de esta serie.
La bibliografía del personaje es sencilla: Sandman del 1 al 75, recopilado más tarde en 10 tomos o arcos argumentales.
A la finalización de la serie Sandman no sería ya el mismo personaje, y su "manto" de rey del sueño pasó a "Daniel", que es ahora el regente de los soñadores.

Opinión del crítico

Puntuación
del crítico: 10

Sandman es probablemente una de las obras más influyentes de los años 90 en el mundo de los comics moderno, no tanto por su forma o contenido sino también por haber sabido traspasar el mundo de los comics y convertirse en un referente de la literatura a todos los niveles, haciendo que el cómic traspasara fronteras como no lo había logrado Alan Moore.


Su argumento y si historia no dejan indiferente a nadie. Se pueden distinguir dos tipos de relatos claramente en la serie, por un lado están los relatos cortos, normalmente mitos o leyendas actualizados y con Sandman como "invitado especial" que arregla la situación, historias por las cuales Neil Gaiman ganó varios premios, y por otro lado la historia principal, la búsqueda de El Señor de los Sueños de "algo", que si bien no queda del todo claro una lectura pausada de toda la narración lo aclara. Basicamente estamos hablando de "el cambio", debido a su reclusión en la burbuja Sandman tiene la necesidad de cambiar personalmente, inquietud que nunca había tenido antes, y ese "deseo" le lleva a buscar su propia destrucción ya que como "concepto" él mismo no puede cambiar (o no sabe cómo). Al ser "deseo" y "destrucción" hermanos suyos, la narración se convierte en una curiosa meta-narración en la que los conceptos tienen vida propia y el deseo y la destrucción, al igual que la desesperación, el destino y el delirio, tienen significado no solo como personajes en un cuento sino como los conceptos que ellos mismos representan.


Una genialidad, vamos. Ni Grant Morrison. =)
Al mismo tiempo Neil Gaiman usa un montón de elemento extraidos de las leyendas y los mitos como si fuera un mismo mito el que los narrara, de tal forma que da lugar a una nueva leyenda, la de Sandman, con tantos elementos como los mitos clásicos, solo que en un soporte nuevo. Hasta cierto punto da la impresión de que Neil Gaiman no fuera consciente al principio de lo que quería hacer, no al menos hasta el número 13 de la serie, más o menos, donde empieza a darle forma a su panteón de dioses, y a la "búsqueda" que habrá de seguir el héroe (Sandman), y en ciertos puntos da la impresión de no saber hacia donde iba a seguir, pero lo resuelve con maestria. El problema es que los elementos que usa para crear este nuevo "mito" están tan ocultos en la narración, aunque a la vista de todos, que acaba resultando un cuento "esotérico" del que habría que hacer un estudio completo más que un artículo, y desgraciadamente la narración principal pierde mucho sin estos elementos. Aunque claro si no no sería algo "esotérico". En las páginas de Sandman nos muestra conceptos sacados de la alquimia medieval, de la cábala y de las trádiciones herméticas más antiguas, y merece escribir algo más extenso sobre esto por lo que lo dejaré para otra ocasión.


Como en las grandes obras de la literatura, Neil Gaiman nos muestra en Sandman diferentes niveles de lectura, para que cada cual elija el que más le atraiga o el que llegue a percibir: un cuento de aventuras con personajes fantásticos, una meta-narración con conceptos interactuando entre si, un rito iniciático con raices cabalísticas... y quién sabe cuantos niveles más.


Una genialidad.

Nacho
Ficha de Personaje enviada por
Nacho
el 12 de Noviembre de 2005
IMAGENES

visitantes