No one rests in peace.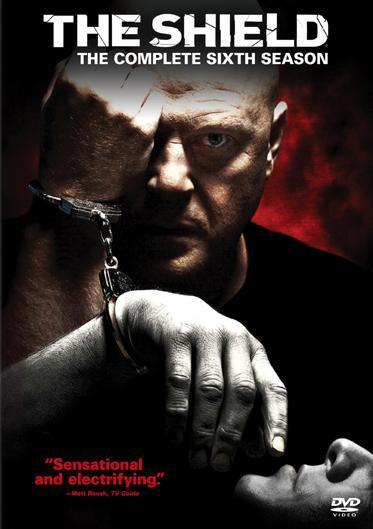 The Shield: al margen de la ley (T6)
Título original
The Shield
Nacionalidad
Estados Unidos de América
Año
2007
Género
Accion · Drama · Genero_Negro
Formato
Color
Duración
60
Director
Guy Ferland, Frank Darabont
Guión
Shawn Ryan, Kurt Sutter
Fotografía
Ronn Schmidt
Música
Vivian Romero
Producción
Emitida por la cadena F/X
Reparto
Michael Chiklis, Forrest Whitaker, Catherine Dent, Walton Goggins, Michael Jace, Jay Karnes, Benito Martinez, CCH Pounder, Cathy Cahlin Ryan, David Rees Snell, David Marciano, Clifton Collins Jr, Franka Potente
Sinopsis
Son tiempos difíciles para Vic Mackey. Los jefazos quieren darle la patada y echarlo definitivamente de la policía pero él no está dispuesto a dejar que eso pase. Al tiempo que lucha contra Kavanaugh y el peligro de las calles, su deseo de venganza no hace más que aumentar...

Crítica

Puntuación
del crítico: 10

Penúltima temporada de esta inigualable serie (la séptima debería estrenarse este año) es la más breve de todas, sólo 10 episodios, pero la intensidad y la emoción son enormes. Es como una cuenta atrás para el personaje de Michael Chiklis, al que quieren jubilar de inmediato mientras él se dedica a buscar al asesino de Lem para vengarlo.



Shane Vendrell por su parte no hace más que cagarla una y otra vez, tratando de ocultar lo que hizo (impresionante el momento de la ejecución del salvadoreño "Guardo"), engañando a su mujer y finalmente cayendo en las manos de la mafia armenia. El momento en el que Vic descubre quién mató realmente a Lem es tremendo, a partir de ese momento es una guerra directa entre los dos viejos amigos.



En Farmington el caso más sangrante de la temporada es el homicidio múltiple de San Marcos, donde mueren 12 personas. CCH Pounder ahora es la capitana, Dutch sigue siendo el detective sabiondo y capullín de siempre y aparece un sustituto nuevo para el puesto de Vic. Los famosos Clifton Collins Jr. y Franka Potente se suman al reparto de esta trepidante temporada.



La conspiración política que se descubre al final es un caramelo que seguirá en la siguiente. Estoy deseando saber cómo acaba todo.

Davis

visitantes