The final act.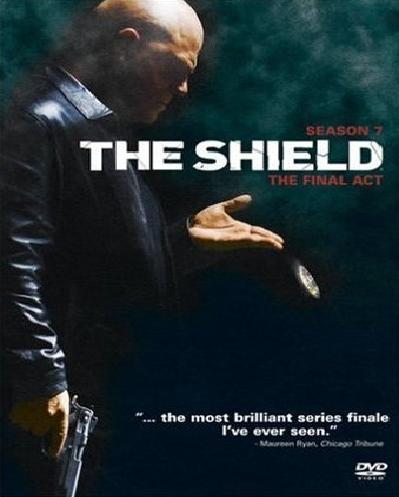 The Shield: al margen de la ley (T7)
Título original
The Shield
Nacionalidad
Estados Unidos de América
Año
2008
Género
Accion · Drama · Genero_Negro
Formato
Color
Duración
60
Director
Clark Johnson
Guión
Shawn Ryan, Kurt Sutter
Fotografía
Ronn Schmidt
Música
Vivian Romero
Producción
Emitida por la cadena F/X
Reparto
Michael Chiklis, Catherine Dent, Walton Goggins, Michael Jace, Jay Karnes, Benito Martinez, CCH Pounder, Cathy Cahlin Ryan, David Rees Snell, David Marciano, Autumn Chiklis, Kyle Gallner, Paula Garcés, Michele Hicks, Laurie Holden, Clark Johnson, F.J. Rio, Choice Skinner, Frances Fisher
Sinopsis
Teleserie de policías centrada en el detective Vic Mackey, líder de una unidad especial de policía del distrito de Farrington de Los Ángeles, muy eficaz a la hora de luchar contra el crimen pero que trabaja según sus propias normas empleando métodos muy particulares. Estas normas no excluyen procedimientos tan cuestionables como la extorsión, la tortura o el chantaje, si se consideran necesarios.

Crítica

Puntuación
del crítico: 10

Estos son tiempos difíciles y no sólo por la puta crisis. En menos de un año me he tenido que despedir de Tony Soprano y de Jimmy Mcnulty... ahora le tengo que decir adiós a Vic Mackey.

Maravillosa última temporada, un broche de oro para la que es una de las GRANDES series de la historia y el segundo mejor policiaco (antes lo hubiera colocado el primero de la lista pero es que luego descubrí "The Wire") que ha pasado nunca por una televisión.

SPOILERS.

La mafia armenia sigue presionando a Shane y a Vic por el robo del tren del dinero mientras que el caso del político corrupto Cruz Pezuela adquiere una mayor dimensión, ahora el objetivo es el jefe del cartel de droga mexicano que llega a Los Angeles para distribuir su mercancía. Todas las tramas se van cerrando magistralmente por los guionistas, llevan a todos los personajes al límite y te sorprenden con los giros que toma la historia.



Uno de los mayores logros de esta serie es el realismo con el que describe la actividad policial en una ciudad conflictiva. Que ni los buenos son tan buenos ni los malos tan malos, la facilidad con la que puedes pasar la línea y lo jodido que es luego dar marcha atrás. El final de "The Shield" puede que no a todos los fans les parezca justo pero desde luego es coherente y realista con lo acontecido desde la primera temporada. Shane Vendrell acaba suicidándose y con él su familia al no querer entregarse, Ronnie Gardocki es detenido por sus propios compañeros y Vic Mackey es el único que logra inmunidad por toda la mierda cometida durante estos años. Es un superviviente, ha sido más listo que nadie como de costumbre pero él también tiene que pagar un precio: pierde lo que más quiere en el mundo, su familia y su placa.



Es muy triste ver a Vic vestido con traje y corbata "encerrado" en ese escritorio mientras escucha las sirenas en la calle. Te parte el corazón ver a Ronnie siendo detenido ante la mirada culpable de Vic y te destroza ver el destino de Shane, comiéndose una bala de su propia arma. El equipo de asalto ha muerto para siempre y sus pecados son ahora conocidos por todos.



El resto de personajes también son despedidos como Dios manda. El buitre Aceveda, tan corrupto o más que Vic y sus chicos, Claudette Wyms, 'Dutch' Wagenbach, etc.

Las actuaciones son excelentes, Michael Chiklis como siempre LO BORDA, consciente de estar ante el papel de su vida. A David Rees Snell nunca le había destacado pero no hacerlo en esta temporada sería un crimen, su Ronnie es inolvidable. Y luego está el gran Shane, que personaje más cojonudo y que interpretación tan genial de Walton Goggins, toda la evolución de su personaje desde el principio de la serie hasta aquí es fascinante.



Así acaba esta obra maestra. Ha sido un lujo y un placer disfrutarla y a buen seguro que no será la única vez que lo haga. Imprescindible.

Davis
Ficha de Serie de TV enviada por
DAVIS
el 22 de Diciembre de 2008
visitantes