El Mismo Planeta. Un Mundo Diferente.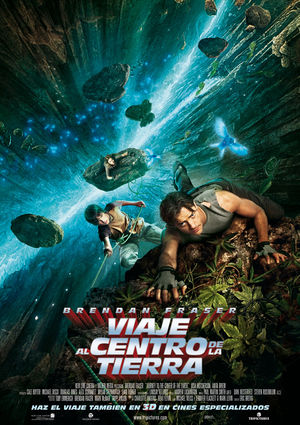 Viaje al centro de la Tierra
Título original
Journey to the Center of the Earth
Nacionalidad
Estados Unidos de América
Año
2008
Género
Aventuras · Fantastico
Formato
Color
Duración
92
Director
Eric Brevig
Guión
Michael Weiss, Jennifer Flackett, Mark Levin
Fotografía
Chuck Schuman
Música
Andrew Lockington
Producción
Walden Media
Distribuidora
Tripictures
Reparto
Brendan Fraser (Trevor Anderson), Josh Hutcherson (Sean Anderson), Anita Briem (Hannah), Seth Meyers (profesor Alan Kitzens), Jean-Michell Paré (Max Anderson), Jane Wheeler (Elizabeth), Frank Fontaine (hombre mayor), Giancarlo Caltabiano (Leonard), Kaniehtiio Horn (chica Gum-Chewing)
Sinopsis
Durante una expedición científica en Islandia, el visionario científico Trevor Anderson (Brendan Fraser), su sobrino Sean (Josh Hutcherson) y su hermosa guía regional, Hannah (Anita Briem), quedan atrapados en una cueva. La única posibilidad de escapar de allí es adentrándose en las entrañas de la Tierra. Recorriendo mundos jamás vistos, el trío se encuentra cara a cara con criaturas increíbles. Pero la actividad volcánica del lugar es cada vez más intensa, por lo que deberán encontrar urgentemente una manera de poder volver a la superficie antes de que sea demasiado tarde.

Crítica

Puntuación
del crítico: 4

En vez de aprovechar y hacer una nueva adaptación de la novela bien realizada, seria y grandiosa con los medios de hoy en dia van y nos sacan este desproposito film que el único interes que tiene es verla en 3D, cosa que cada vez se esta extendiendo más y más, pero esta claro que nunca podrán tener la calidad de las películas 2D, vamos las de toda la vida, ¿porque a nadie le molesta verlas en 3D? a mi ni me ha impresionado ni nada, solo me he cansado de ver trucos baratos y estar todo el rato con las dichosas gafas, una historia de pena para revivir la novela de Julio Verne, unos actores pésimos, escenas que parece que estes jugando a un videojuego, que a parte de que todo esta hecho por ordenador la mayor parte de la película se la pasan como si fuese el Mario Bros, saltando de roca en roca para no caerse, esquivando cosas, deslizandose por toboganes y matando plantas canibales.



En fin, el trailer no auguraba nada bueno pero me he encontrado algo peor.
Ni comparación con la versión que hizo Henry Levin en 1959.

☠JACKY☠

Ficha de Película enviada por
Jack Skeleton
el 6 de Septiembre de 2008
video
visitantes