Un aplauso para the Flight of the Conchords.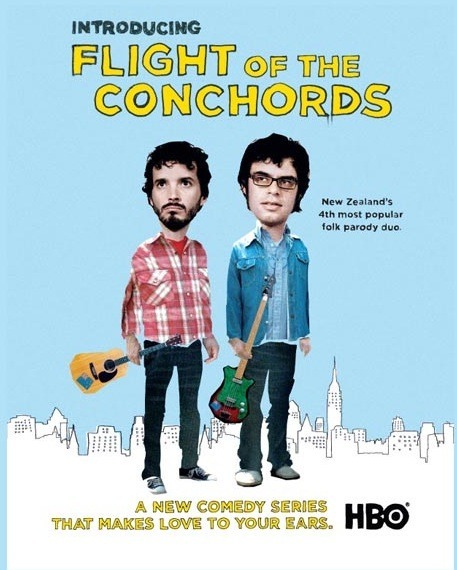 Los Conchords (Flight of the Conchords) (T1)
Título original
Flight of the Conchords
Nacionalidad
Estados Unidos de América
Año
2008
Género
Comedia · Musical
Formato
Color
Duración
30
Director
James Bobin, Taika Cohen
Guión
James Bobin, Jemaine Clement, Bret McKenzie
Fotografía
Patrick Alexander Stewart
Música
Jemaine Clement, Bret McKenzie
Producción
HBO
Reparto
Jemaine Clement, Bret McKenzie, Rhys Darby, Kristen Schaal, Eugene Mirman, Arij Barker, Frank Wood, David Costabile, Sutton Foster, Steve Sirkis, Rachel Blanchard, John Turturro
Sinopsis
Comedia de la HBO que presenta a dos neozelandeses en los Estados Unidos, que intentarán triunfar en el mundo de la música con su banda de rock.

Crítica


Puntuación
del crítico: 9

Es el último filón que ha encontrado la HBO en comedia y huele a serie de culto por todos sus poros.

GENIAL show de humor absurdo que narra la vida de un par de neozelandeses que sueñan con triunfar con su banda. En cada episodio se marcan al menos dos números musicales divertidísimos, nunca había visto nada igual. La forma de ser de Bret y Jemaine no deja indiferente, enseguida te acostumbras a sus muletillas, sus manías y sus acentos. En buena medida el humor viene por su forma de hablar, el absurdo de las conversaciones, etc, por lo que debe disfrutarse en versión original. No me quiero ni imaginar el destrozo que se va a cometer cuando doblen las canciones en castellano...



Los personajes son brillantes y están magníficamente interpretados, Bret y Jemaine son unos cracks (que por cierto se llaman igual en la vida real y son los creadores de la serie), en particular me encanta Jemaine, creo que es un cómico nato. La primera y única fan de la banda, Mel, también es muy divertida pero el que se lleva la palma y la mayor parte de las risas del programa es el representante, Murray Hewitt. Insuperable, todo un hallazgo ese hombre.



Un derroche de imaginación y frescura, demuestra que aún no está todo inventado en la comedia. Muy recomendable.

Davis
Ficha de Serie de TV enviada por
DAVIS
el 22 de Octubre de 2008
visitantes