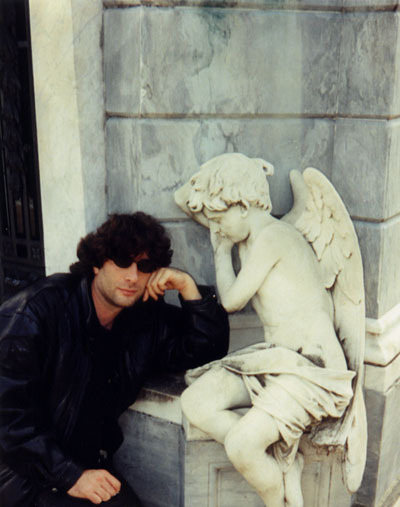 Biografía y bibliografía principal
Escritor de comics y libros, se hizo famoso en los años 90 gracias a su obra SANDMAN, que ganó múltiples premios y obtuvo el favor de crítica y público.
Anterior y simultaneamente a Sandman publicó distintas obras entre ellas Black Orchid, Books of Magick, The Children Crusade, Death: The High cost of Living, Death: The Time of your Life, Miracleman: Golden Age, Signal to Noise, Stardust y otras muchas historias cortas, muchas de ellas con su colega dibujante y diseñador Dave McKean


Después de Sandman, Neil Gaiman se dedicó a multiples proyectos fuera del mundo de los comics, entre otros la serie de televisión Neverwhere, que posteriormente daría un libro, y distintos libros: American Gods, Angels And Visitations, Coraline, Good Omens con Terry Pratchett, Smoke And Mirrors, Stardust, y otros.


Actualmente (Octubre 2005) ha co-dirigido y escrito la película MirrorMask, con diseños de Dave McKean.
Vive en Minneapolis, Minnesota, y mantiene permanentemente actualizado su blog en www.neilgaiman.com

Opinión del crítico sobre la carrera del autor


Puntuación
del crítico: 8

Neil Gaiman es un autor que merece estar a la altura de Alan Moore en el "panteón" de los creadores del mundo de los comics que han sabido traspasar el mundillo. El problema es que no solo de comics vive el autor, y Neil se ha mantenido muy apartado del mundo de los comics desde que acabó Sandman, manteniendo sus colaboraciones a cosa esporádicas.


Como escritor también tiene algunas obras verdaderamente mágicas, como Angels And Visitations, pero igualmente su genio ha caido levemente en el terreno literario metiendose en derroteros extraños, intentando aprovechar su tirón en los terrenos "mágicos" parece que solo en los relatos cortos es donde ha demostrado lo interesante que puede ser.


Visto en perspectiva, Neil es un autor bueno, que tuvo sus obras cumbres en los noventa, Sandman y otras maravillas, y que mantiene un nivel bueno en lo que hace, sin llegar a esas maravillas a las que nos tenía acostumbrados. De cualquier manera como todos los genios tienen sus altibajos, muchos esperan que la nueva película que ha escrito, MirrorMask, sea una nueva referencia para Neil Gaiman y veamos de nuevo esa mágia que nos hizo vibrar con Sandman.

Nacho
Ficha de Autor enviada por
Nacho
el 31 de Octubre de 2005
visitantes